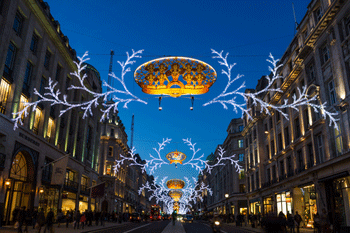 Councils have backed a campaign to crowdfund money to pay for festive high street decorations.
Data firm Experian has stumped up £100,000 to matchfund festive projects, with up to £5,000 available per yuletide scheme.
Some £9,500 has already been pledged to the Christmas lights in Ripon, North Yorkshire, where organisers want to create a display of pure white illuminations.
Funding is also being sought for festivities in Collier Row, Hornchurch, Surrey, Dover, Bootle, Kendal, Bedminster and Rainham, among others.
A spokesman for the Save Santa campaign said: 'Christmas is an amazing time to build community and remind people of the value of high streets.
'Save Santa is something we hope will inspire people to come together and ensure that austerity doesn't prevent high streets having their names up in lights.'
Photo: mikecphoto/Shutterstock.com