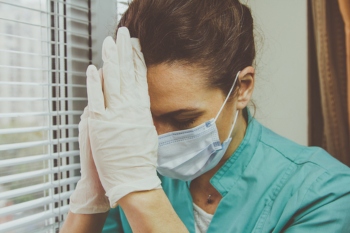 Staff shortages are forcing two-thirds of care homes to turn people away from their services, a new survey has warned.
The survey found 67% of managers had stopped or limited the number of new people coming into their care homes, or had refused to take on new requests for domiciliary care for people living in their own homes.
The survey, by the National Care Forum (NCF) and the Outstanding Managers Network, also found a third had limited or stopped admissions from hospitals.
Some care managers also reported handing back packages of care to the local authority because they do not have enough staff to provide them.
The survey estimates that around 5,000 people have been turned away from their care services since 1st September.
The managers responding to the survey had an average staff vacancy rate of 17%.
Vic Rayner, CEO of the NCF, said: 'These findings make uncomfortable reading and offer evidence of the stark reality being experienced by care providers and registered managers on the ground, and of the pressure they are under every day to provide care and support to the people who rely on them.
'The significance of this data means that people are not being discharged from hospital when they need to, to continue care and treatment at home or in residential care settings. And providers are having to make very difficult decisions about who they can support - sometimes resulting in people with high or complex needs not getting access to the care and support they desperately need. This cannot continue – it has to stop now.'
The NCF is calling on the Government to pay staff a retention bonus and a pay increase, add care workers to the Shortage Occupation List for a time limited period, and delay the implementation of mandatory vaccinations in care homes.