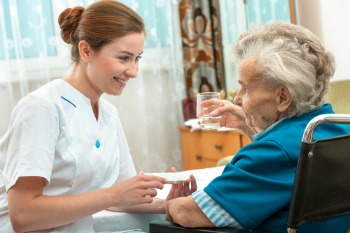 Social care directors have warned they will need significantly more funding, more PPE and more influence on NHS England's decision making, to help cope with COVID-19 as we head towards winter.
Association of Directors of Adult Social Care (ADASS) president James Bullion has warned that social care is 'not out of the woods'. He said: 'We are very mindful of the winter to come.'
In a survey by ADASS, 96% of directors said they would need more cash for their departments, for providers and for care staff. ADASS estimates the social care sector will need an additional £6bn to get them through the winter.
According to the report: 'The focus on rapid discharge from hospital without taking account of the need of the whole health and care system has had tragic consequences.' It says the absence of testing could have accelerated the spread of coronavirus in care settings.
ADASS president James Bullion said: 'The Government must ensure that social care is never again left exposed to a pandemic.
'This starts by protecting those of us with care and support needs from the current and subsequent waves of COVID-19 and extends to ensuring social care is at the centre of all future emergency planning and preparation.'
'Learning the lessons from the Covid-19 pandemic, the Government must seize the opportunity to reform and reset social care as part of the wider post Covid-19 recovery. '
According to the survey, adult social care directors said coronavirus had made the already 'extremely fragile' care markets even more susceptible to market failure. Prior to the pandemic, there had been a downward trend in the number of care providers closing or handing back contracts, but now directors are increasingly concerned about their viability.
Chartered Institute of Public Finance and Accountancy chief executive, Rob Whiteman, claimed social care was the 'forgotten front line', while the NHS received £6.6bn and 'carte blanche on spending.
'An already over-stretched and under-resourced social care sector has been placed under incredible strain, the effects of which are going to be felt for years to come,' he said. 'It's time for the government to stop treating social care like the poor relation and provide this critical sector, which cares for the most vulnerable people in society, with the resources and long overdue reform it requires.'