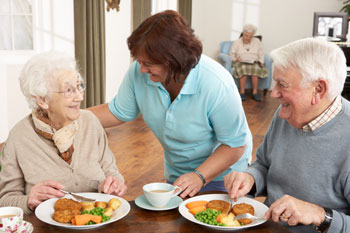 Financially squeezed care homes are using older people who pay for their own care to make up shortfalls to keep struggling homes open.
A new report from Age UK found two in five (41%) residents in UK independent care homes are now paying for their own care - an increase of almost a third (28.5%) in the last 10 years.
The report, entitled Behind the headlines: Stuck in the middle – self funders in care homes, also highlighted the fact that independent care homes are relying on self-funders to make up for cuts to local government funding.
Big cuts in public funding for social care are forcing local authorities to drive down prices. This means care homes are struggling to balance the books and so they are turning to self-funders.
Self-funders pay on average between £603 and £827 a week depending on the area, compared to councils paying between £421 and £624 a week.
This means a lot of people are left vulnerable, the charity warns.
There are no specific measures to ensure fair contracts in care homes and older people who pay for their own care do not enjoy the protection of the Human Rights Act, unlike those in the care of the state.
Age UK warned this made people reluctant to complain about unfair deals because they were worried about 'rocking the boat' and being asked to leave.
'More and more older people are paying their own care home fees and they are increasingly at risk of a raw deal because they are propping up a system that is seriously underfunded,' Caroline Abrahams, Charity Director at Age UK, said.
'They not only often face eye wateringly high weekly rates, calls to our helpline show that in some care homes they are being asked to pay even more through various extra charges as proprietors struggle to balance the books.
'Older people and their families deserve greater legal protection from care home contracts that are one-sided and extra charges that are over the top.'
'It also seems incredibly unfair that a care home resident can be evicted if they or their family are seen to "rock the boat" by complaining. Surely the time has come to give these vulnerable older people their proper legal rights,' she added.