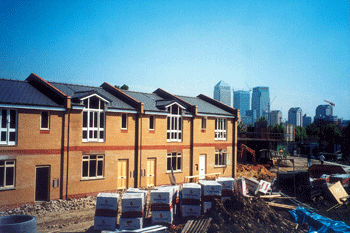 Local authorities have identified enough brownfield land for over one million new homes, research reveals.
The Campaign to Protect Rural England (CPRE) found the 17,656 sites identified by local planning authorities would provide enough land for a minimum of 1,052,124 homes.
Most of this brownfield land is within urban areas — particularly in London, the North West and the South East — that already have infrastructure, and where there is a higher demand for housing.
The campaign group argues these sites could help meet the next three years of Government housing targets and will ease the pressure on councils to develop greenfield areas.
'It's fantastic news that local authorities have identified so many sites on brownfield land that are ready and waiting to be developed — and shown how wide of the mark the Government's estimates of brownfield capacity have been,' said Rebecca Pullinger, planning campaigner at CPRE.
'Contrary to what the Government, and other commentators have said, brownfield sites are also available in areas with high housing pressure.
'Indeed, our analysis is conservative with its estimates of potential number of homes that could be built – the figure could much higher if density is increased and if more registers looked at small sites.
'The Government needs to get on with amending its guidance to make sure that councils identified all the available brownfield sites in their areas.
'They then need to improve incentives to build on these sites and ensure that they follow through on their commitment that all that new-builds should be on brownfield first.'