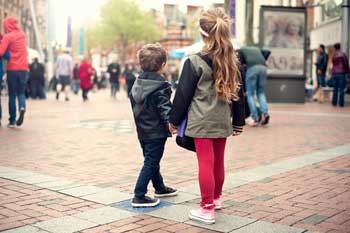 A campaign for children's rights is calling on local authorities to stop 'breaking the law' by housing families in B&Bs for longer than the legal limit.
Government statistics show that at the end of 2017, 120,510 homeless children were housed in temporary accommodation, including in Bed & Breakfasts.
At the end of 2017, 2,050 households with children, or headed by a child, were housed in a B&B and of these nearly 45% (900) stayed longer than the six week legal limit.
The Change it! campaign has warned that children placed in temporary accommodation for extended periods are at risk of sexual exploitation, developing mental and physical health problems and losing out on their education.
'In 2016 I spent 6 months living in a B&B with my family,' said Change It! steering group member Fowzia.
'The accommodation was cold, dirty and unsafe; living there damaged my education and left me with anxiety. There was no accessible entrance for my disabled brother, and no where for us to cook.
'We are still housed in temporary accommodation, awaiting a review. We endure indifference and ruthlessness from our local council who demand payments without warning and threaten us with eviction.'
She said the Government must take 'urgent action' and implement new laws 'to guarantee adequate housing for children and families.'
The campaign is led by a steering group made up of 22 young people aged eight to 20 years old from across England, and it is supported by the Children's Rights Alliance for England (CRAE).
Louise King, director of the Children's Rights Alliance for England, said: 'It's shocking that in 2018 children are telling us about living in accommodation infested with rats and being forced to share filthy bathrooms with adults they do not know.
'Bed and Breakfast accommodation is completely unsuitable for children – babies and very young children have nowhere to play, crawl and learn to walk and older children have no privacy and no where to study or socialise with friends.
'Despite it being illegal to house children in B&Bs for longer than 6 weeks the children we have spoken to have been forced to live there for months on end. The Government must take urgent action to put a stop to this unacceptable situation.'