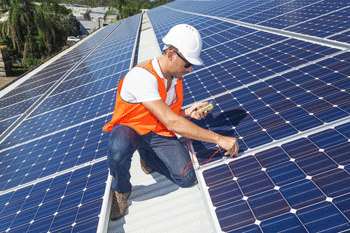 Environmental campaigners have called for the creation of 250,000 'green apprenticeships' in areas such as renewable energy as part of the effort to address the twin crises of youth unemployment and climate change.
A new report published by Friends of the Earth warns that the impact of youth unemployment during the pandemic could see up to £39bn in lost wages in the UK over the following 20 years, if all young people currently unemployed remain jobless for a year.
Written by Transition Economics and supported by People's Postcode Lottery, An emergency plan on green jobs for young people – why and how?, the report argues for up to £10.6bn of Government funding to go towards wage subsidies, training, and diversity measures in order to deliver green apprenticeships.
It also calls for the creation of a network of National and Regional Centres of Excellence for Zero Carbon Skills at further education colleges, and proposes bursaries of £1,500 to promote participation in green apprenticeships among disadvantaged groups, including Black, Asian and Minority Ethnic (BAME) communities, women, and disabled people.
'There's a serious risk that this country is going to leave its young people to a future devastated by the climate crisis and unemployment,' said Denis Fernando, climate campaigner at Friends of the Earth.
'But it's not too late to turn this around. Investing in green apprenticeships in areas such as renewable energy and woodland creation could prevent a new wave of youth unemployment, while helping the UK towards a more climate-friendly future.'
According to the report, the Combined Authority and Metro Mayor areas with the greatest opportunities for green apprenticeship creation over three years are London (44,220 apprenticeships), West Midlands (19,430), Greater Manchester (14,140), West Yorkshire (11,750), and Sheffield City Region (6,400).
The research also revealed that the local authorities with the greatest potential for green apprenticeship creation over three years are Birmingham (9,080), Leeds (4,030), Bradford (3,420), Manchester (3,420), and Liverpool (2,780).
Paul Nowak, deputy general secretary at TUC, commented: 'Young people have borne the brunt of the job losses caused by the coronavirus pandemic, and we need an urgent plan to make sure this experience doesn't scar their future.
'We know that investment in the skills required to get Britain to net zero, and in the good green jobs that will deliver it, could provide the opportunities young people desperately need now.
'This report is an important contribution to making that happen – and we look forward to working with everyone committed to ensuring that we deliver a better future both for young people and for the planet.'