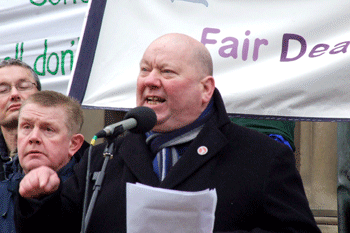 The mayor of Liverpool has branded comments about council funding by David Cameron 'ignorant' and 'obscene'.
Joe Anderson angrily dismissed Mr Cameron's remarks, saying it was 'nonsense' to suggest that he would deliberately cut services for political gain.
Mr Anderson accused Mr Cameron of 'playing politics' after the Prime Minister said Liverpool still received significantly more than the average for English local authorities.
In an interview with local radio station City Talk, Mr Cameron dismissed claims by the mayor that Liverpool was facing a cut of 56% in its funding from central government over five years under the coalition.
Mr Cameron said that the 1.3% reduction in Liverpool's grant this year was in line with the average.
He said: 'Liverpool has a higher degree of need than other councils so should get more money but when I compare what Liverpool gets per household – it's £2,995 spending every year by the council - that is a full £500 more than the average for English local authorities.'
Photo: Inniebear/flickr