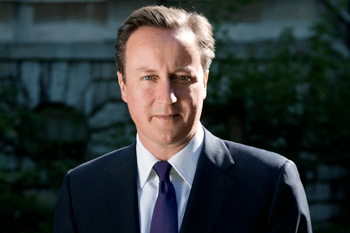 David Cameron has said the Government's welfare reforms are giving 'new hope' to those claiming benefits, after critics labelled the changes a 'disgrace'.
The prime minister said benefits cuts are not only part of a long-term economic plan but also at the heart of the Coalition's 'moral mission'.
Cameron issued a firm rebuke to the archbishop of Westminster, Vincent Nichols, after Briton's most senior Roman Catholic cleric said thousands were being left facing 'hunger or destitution'.
Earlier this week, Nichols told the Telegraph that in a country as affluent as the UK it was a 'disgrace' the administration of social assistance was becoming 'more and more punitive'.
'The basic safety net that was there to guarantee that people would not be left in hunger or in destitution has actually been torn apart,' Nichols commented. 'It no longer exists and that is a real, real dramatic crisis.'
Writing in the Telegraph today, Cameron argued changes to the welfare system were about 'doing what is right' and 'building a country where people aren't trapped in a cycle of dependency'.
He said efforts were 'giving new purpose, new opportunity, new hope – and yes, new responsibility to people who had previously been written off with no chance'.
'Seeing these reforms through is at the heart of our long-term economic plan – and it is at the heart, too, of our social and moral mission in politics today.
'Those who can't work will be always supported, but those who can work have the responsibility to do so. The welfare system should never take that responsibility away. Whatever your religious or spiritual perspective, I believe very firmly that it is wrong to penalise those who work hard and do the right thing while rewarding those who can work, but don't,' Cameron wrote.
Nichols claims he has been 'inundated' with messages of support since making his comments.