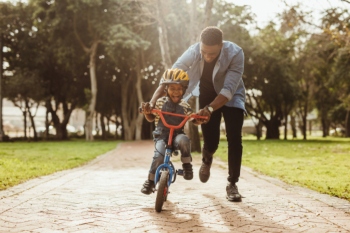 The Government should spend 25% of its 'levelling up' funding on public spaces such as parks and playgrounds to help revive 'left behind towns', a new report has argued.
The report from the Bennett Institute for Public Policy said that 25% of both the Levelling Up and Towns funds should be earmarked for 'social infrastructure'. It argues that spaces and facilities that bring people together are just as vital as physical infrastructure projects as part of the post-COVID recovery plan.
It also calls on the Government to create a specific fund for social infrastructure and help incentivise private investment such as levies on housing developers for the provision of public parks.
Prof Michael Kenny, report co-author and director of the Bennett Institute at Cambridge, said: 'When the local pub is shuttered, the park is unkempt and the high street has been hollowed out, the pride of a once close-knit community can give way to pessimism and disenchantment.
'There is an ingrained bias in Government towards large-scale infrastructure projects, but interventions that seek to restore dilapidated town centres or support local initiatives may be far more socially and economically beneficial than many policy-makers appreciate.'
The report also highlights that social infrastructure-related services account for almost half the jobs in some so-called 'left behind' towns. These sectors are also major employers of young people, people with disabilities or people with learning difficulties.