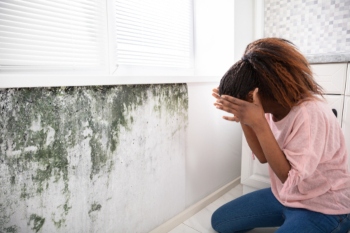 A third of adults are living in homes that are unaffordable, unfit or unstable, a homelessness charity has warned today.
Research by Shelter has revealed that 17.5 million people in Britain are impacted by the 'housing emergency' or have been subject to discrimination due to their race, gender, disability or sexuality.
The report shows Black people are 70% more likely to be impacted by the housing emergency than White people, while nearly half of Asian adults do not have a safe or secure home.
People with a significant disability, single mothers, low income households, and gay, lesbian or bisexual people are also less likely to have a safe and secure home, according to the report.
Polly Neate, chief executive of Shelter, said: 'Decades of neglect have left Britain's housing system on its knees. A safe home is everything, yet millions don't have one. Lives are being ruined by benefit cuts, blatant discrimination and the total failure to build social homes. 23% are living in homes with significant damp, mould and condensation.'
Shelter is calling on the Government to build at least 90,000 social homes a year to end the 'unstable and discriminatory' housing system.
Cllr David Renard, Local Government Association housing spokesperson, said: 'Councils want to work with Government to tackle the housing crisis and reduce homelessness.
'With further powers and resources to build 100,000 high-quality, climate-friendly social homes for rent each year, including further reform to Right to Buy, councils can help to meet a third of the Government's overall annual housing target and generate a range of social and economic benefits.'
London Councils is also calling on the Government to end Right to Buy restrictions and confirm social rent levels for the next ten years.
Cllr Darren Rodwell, London Councils' executive member for housing & planning, said: 'Boroughs are determined to do everything we can to ensure every Londoner has a safe and secure home – but councils need urgent government action to make this happen. Only the Government can bring forward the massive investment in social housing and changes to the welfare system required to resolve the worsening crisis.'