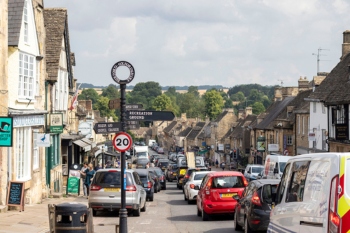 Councillors in Oxfordshire have backed plans for widespread 20mph limits as part of an 'ambitious and innovative' new transport plan that aims to create a 'healthier, better digitally connected, more active' county.
Oxfordshire CC said its Local Transport and Connectivity Plan sets out to achieve this by reducing the need to travel and discouraging unnecessary individual private vehicle use through making walking, cycling, public and shared transport 'the natural first choice'.
The plan also includes the concept of the 20-minute neighbourhood, where goods and services are within a 20-minute walk. Cabinet members approved the plan subject to consultation next month.
Tim Bearder, cabinet member for highways management, said: 'We have a vision to transform transport in Oxfordshire. We want to be less reliant on the car and all enjoy access to vastly improved public transport and gold standard walking and cycling paths.
'We know we face a climate emergency and the least well off are being left behind. Our current network incentivises more carbon waste and is overly focused on expensive single occupancy cars.
'We are miles away from where we should be so this plan represents an exciting milestone in the development of transport network and policies that shifts that balance in favour of something more sustainable. It will take us in a very new direction.'
Photo: malgosia janicka / Shutterstock.com
Visit Highways magazine for more stories like this.