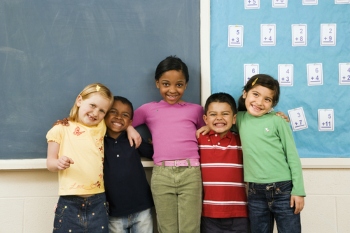 The COVID pandemic led to 'considerably more' children from ethnic minority and disadvantaged backgrounds missing out on formal early learning, a new study has revealed.
The new research on the impact of the pandemic on Early Childhood Education and Care (ECEC) found that the number of children attending ECEC in the autumn 2021 had dropped to 90% of expected levels based on pre-pandemic patterns.
Carried out by the Centre for Evidence and Implementation, the University of East London, Frontier Economics, Coram Family and Childcare and the Institute for Fiscal Studies, the study learnt that attendance was lower than expected in areas with large ethnic minority populations, deprived areas, and areas with high unemployment rates.
Conversely, the Nuffield Foundation-funded research also found that attendance rates were higher in local authorities that were less deprived, had higher rates of development amongst two- and five-year-olds and had higher rates of female economic activity and lower unemployment rates.
Ivana LaValle, principal investigator on the research, said: 'The pandemic has highlighted the pivotal role of early education in children's social, emotional and cognitive development. But children from disadvantaged and ethnic minority backgrounds, who are most likely to benefit from formal early learning, are also the children most likely to miss out.
'The inequality gap has widened, with a likely consequence being that the attainment gap also widens. If this trend is to be reversed, there needs to be more funding from Government to ensure that disadvantaged children have equity of access to quality early years education, including new statutory responsibilities and funding for local authorities to ensure high quality and accessible childcare provision is a key component of the local offer to families with young children – across the country.'
Eleanor Ireland, education programme head, at the Nuffield Foundation, commented: 'The COVID-19 pandemic has had a marked effect on young children's development, in part because many children did not attend early childhood education and care settings. However, even before the pandemic, the sector was experiencing issues in terms of quality, accessibility, affordability and sustainability.
'We need a wholesale review of the purpose and provision of early childhood education and care, including how to improve access and outcomes for children from ethnic minority and disadvantaged backgrounds. Such a review also needs to consider the fairest and most sustainable funding model and how the people providing care can be appropriately skilled and remunerated.'