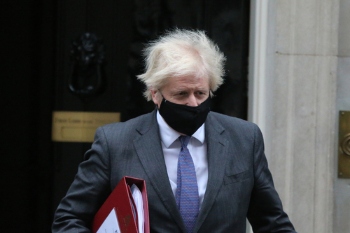 Local authority leaders have urged the Government to ensure that councils have the necessary resources to deal with potential future COVID-19 outbreaks.
The Prime Minister yesterday confirmed that domestic legal restrictions introduced to control the spread of the coronavirus will end on 24 February.
Under the PM's plan for living with COVID, the legal requirement to self-isolate after testing positive for COVID will end.
Self-isolation support payments, national funding for practical support and the medicine delivery service will no longer be available, and routine contact tracing will also end, including venue check-ins on the NHS COVID-19 app.
Fully vaccinated adults and those aged under 18 who are close contacts are no longer advised to test daily for seven days and the legal requirement for close contacts who are not fully vaccinated to self-isolate will be removed.
Responding to the PM's new plan, Cllr David Fothergill, chairman of the Local Government Association's (LGA) Community Wellbeing Board, urged the Government to ensure councils are prepared for possible future COVID outbreaks.
He emphasised the importance of remembering that 'COVID-19 hasn't gone away.'
'There is still a risk of further waves of transmission because of waning immunity and the emergence of new variants and mutations,' said Cllr Fothergill.
'The Government should ensure that local outbreak management plans can be stepped up if required if there is a re-emergence of the virus and that all partners are sufficiently resourced to make this happen.
'The UK Health Security Agency needs to be able to think, mobilise and act nationally to respond, including maintaining their laboratory support, their technical skills and their research capabilities.
'This needs to be supported by delivery on the ground by councils, so if there is a major health protection threat in the future a rapid response can be deployed, ensuring that local communities are protected.'
He continued: 'As national systems are scaled back, it's important that local public health teams still have the tools they need so they can respond to new variants and tackle outbreaks, particularly in higher risk settings.
'This won't require the same level of funding as the Government has provided so far, but an extension of part of the Contain Outbreak Management Fund is vital so councils can continue this work and ensure staff with expertise in this area are retained.'
Think tank The Health Foundation warned that the PM's living with COVID plan fails to take into account the unequal impact the virus has on the population.
'Expecting people to take personal responsibility to reduce the spread ignores the fact that there is insufficient sick pay coverage which means the incentive for many will be to continue to go out to work and not stay at home if they are infected. The removal of statutory sick pay from day one of isolating will only further increase this risk,' said David Finch, assistant director of healthy lives at the Health Foundation.
'Furthermore, limits to free testing could lead to infection rates increasing more rapidly in poorer communities where the impact of infection may be more severe given the lower uptake of vaccines in more deprived areas of the country. This could have a knock-on effect on the backlog of NHS care, with some of the most deprived areas having already faced the most significant service disruption through the pandemic.
'The Government must do more to protect those who are most vulnerable and exposed as we learn to live with COVID-19.'