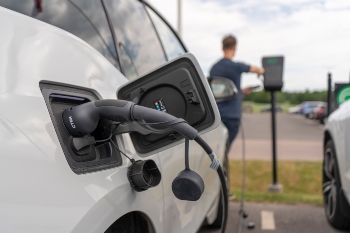 With demand for electric cars increasing rapidly, local authorities have a vital role to play in the development of a robust charging network that not only meets the needs of today's EV drivers, but is also fit for the future.
Here are the key things that local authorities need to consider when installing EV chargepoints.
1. Balancing the load. With demand for EV charging growing exponentially, balancing demand on the grid, which is not growing at the same pace, is an issue being faced by cities all over the world.
It is much more costly to install chargepoints where significant grid capacity reinforcements are needed. But there is another way to ease the load on the grid. By using dynamic load balancing on EV charging networks, the need for grid expansion and connection costs are reduced, as available power is optimised and distributed between buildings and across all operational chargepoints.
This ensures vehicles are all charged as quickly as possible, while preventing overload on the grid and maintaining power to buildings and anything else drawing power from it (e.g. street lights, traffic lights). Without load balancing, increased demand from EV chargepoints could cause main fuses to blow or trip, due to the demand for power being more than what's available.
2. Choosing the right charger. An understanding of the average length of charging sessions, and how much charge EVs tend to draw during each session, will help local authorities match supply and demand, and also decide what type of chargers to install.
CTEK's research shows that the typical charge at a public chargepoint is around 10 kWh, and that vehicles are plugged in for approximately three hours, with drivers generally topping up their battery rather than charging from empty.
It's perhaps easy to think that 'faster is better' and opt for rapid DC (direct current) chargers, but these are not always the best option. DC chargers draw a lot of power from the grid and are costly to install (roughly 10 times the cost of an AC (alternating current) chargepoint). They are really only necessary for drivers looking to quickly recharge, but in public parking spots where drivers are likely to stop for longer, an AC charger is generally more than adequate.
In Sweden's second biggest city Gothenburg for example, CTEK has installed a network of 1,500 AC chargers, but there are only 20 public DC chargers in the whole of the city.
3. Location, location, location. CTEK's rationale for locating public chargepoints is simple – they need to be where the people are - so shopping malls, leisure centres, community buildings etc are ideal. If there is concern about potential impact on parking revenues, consider installing chargepoints in under-used car parks or streets, or creating new parking spaces for EV bays.
4. Smart charging pays. The Government has consulted on proposals that all new UK chargepoints must have smart charging included. Smart charging allows drivers to tailor their charging profile - for example the time, speed and length of charge – to meet their specific needs. If your charging network is OCPP (Open Charge Point Protocol) compliant, paypoint equipment can then be added to apply differential prices for different charging profiles, for example fast/slow or priority charging.
5. Fit for the future. When installing a charging network, it's important to fit for the future, not just for today. Make sure your charging network allows for easy expansion as demand inevitably grows, and that it is OCPP compliant, allowing seamless integration with other manufacturer's equipment.
6. Doubling up. A dual socket chargepoint, where two vehicles can plug in and charge at the same time, can halve the number of physical units that need to be installed, and at considerably reduced cost.
7. Fit well, fit once. Reliability is key consideration. Robust chargepoints with high quality components will result in less downtime, which is a key frustration for EV owners, and less need for ongoing maintenance, or replacement. For outside units, a durable external casing is also recommended, to deter vandalism and protect from the weather.
Cecilia Routledge is global head of e-mobility at CTEK E-Mobility