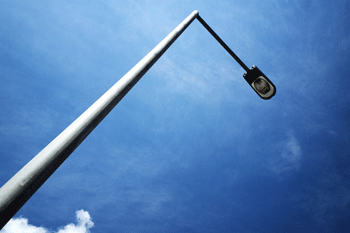 Street light bulbs will no longer be routinely replaced under cost-cutting proposals launched by Derbyshire County Council.
The council said it can only afford to replace 12,000 street lights in the next financial year after its budget for maintaining street lights was cut by £775,000. It predicts that 18,000 street lights will go out during the year, meaning there will be no money to fix 6,000 of them.
The council is now consulting with residents on where street light bulbs should be replaced when they go out.
Deputy cabinet member for jobs, economy and transport, Cllr Dean Collins, said: 'We've decided not to routinely replace light bulbs as we have been doing, but this will lead to more street lights going out when they get to the end of their working life.
'We won't be able to replace every light bulb when it expires, so need to know where people think we should spend the limited amount of money we do have.'
The council proposes certain locations are given priority such as main traffic routes, places with significant night time accident records, pedestrian crossings, and around hospitals or emergency services stations.