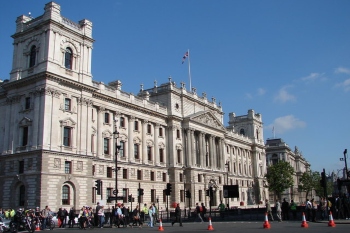 Total public spending is expected to rise by £256bn or 29% in 2020/21, the largest increase on record and the largest percentage rise since just after the oil price shock in 1974/75 according to the Office for Budget Responsibility.
Total public spending is expected to hit a post-war peak of 54.4% of GDP in 2020/21 but drops as virus-related spending reduces settling at around 2.1%of GDP higher in 2025/26 than its pre-virus level. Council tax receipts however are £800m higher than expected due to increases of up to 5% while business rates are £13.4bn lower than predicted.
Most of this reflects increases in health, education and public investment announced before the pandemic. The OBR's economic and fiscal outlook says that the 'Government's spending plans make no explicit provision for virus-related costs beyond 2021/22, despite its Roadmap recognising that annual vaccination programmes and continued testing and tracing are likely to be required.'
The tax rises announced in this Budget increase the tax burden from 34% to 35% of GDP in 2025/26, its highest level since Roy Jenkins was Chancellor in the late 1960s.
Business rates are expected to raise £18.1bn in 2020/21, down 42% on the previous year and £13.4bn billion lower than the OBR's March 2020 forecast.
Council tax is £800mn a year higher than in its March 2020 forecast due to the Government's decision at the Spending Review to allow councils to increase council tax rates by up to 5% without calling a local referendum rather than the 2% that its March 2020 forecast assumed. This raises around £1bn a year, and is partly offset by increases in working-age local council tax support as a result of higher unemployment, which increases the numbers eligible for support.