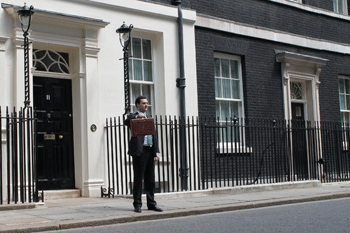 The 2014 Budget speech held no great surprises for local government, with extra cash for flooding, roads and housing taking centre stage.
Chancellor George Osborne stepped up to the deliver his penultimate budget before the 2015 General Election, with news that the economy is recovering faster than forecast, and the deficit is dropping.
'The OBR has revised down the underlying deficit in every year of their forecast. Before we came to office was 11% - this year it will be 6.6%,' the Chancellor claimed. By 2018/19 he suggests there will be no deficit at all.
In public sector pay, Mr Osborne claimed the Government had introduced the Hutton pension reforms, and promised a 'prudential' approach to pay. 'It is the right thing to ensure Britain lives within her means,' he said.
On housing, planning reforms were promised, alongside £1bn for small house builders, and support for people to build their own homes in addition to a garden city at Ebbsfleet, announced earlier this week.
There was good news for highways departments, with £200m for potholes under a bid funding process – and an extra £140m for repairs following the floods – as well as the cash for a new Mersey Gateway Bridge.
Local authorities will also welcome a 25% rise to duty on gaming machines – while the Chancellor gave a bingo bonanza, cutting duty on bingo by half to 10%.
In the devolved parliaments the Chancellor promised Wales new tax raising and borrowing powers to the Welsh government, and a new Enterprise Zone for Colerain in Northern Ireland.
Scotland – which faces a referendum on independence in September – was warned a reliance on North Sea oil and gas would lead to a 'precarious' economy.
He capped the welfare budget at £119bn and promised to would not be allowed to 'spiral out of control' in the future.
As well as cash for savers, the Chancellor cut another penny of a pint – following last year, but raised tobacco duty by 2%.
'This is a budget for the makers, the doers and the savers and I commend it to the house,' Mr Osborne concluded.