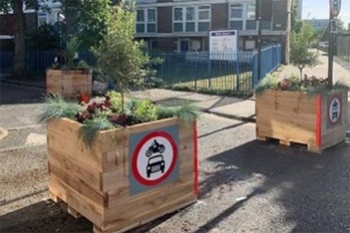 Councillors in Brent have voted to remove four low traffic neighbourhood schemes after significant opposition from residents.
At a meeting last week, Brent Council's cabinet agreed to remove 'Healthy Neighbourhood trial schemes' in the Olive Road, Dollis Hill, Preston Road and Tokyngton and Wembley areas but to keep a scheme in the Stonebridge and Harlesden area, albeit that a restriction at Mordaunt Road will be removed.
A report to the cabinet revealed that a consultation had indicated that none of the five schemes were supported by the majority of local residents. Within the Healthy Neighbourhood areas, between 70% and 91% of respondents opposed the current schemes.
The report put the cost of removing the four schemes and the restriction in the Stonebridge and Harlesden scheme at 'in the region of £20,000'.
Cllr Shama Tatler, cabinet member for regeneration, property and planning said: 'We're committed to cleaning up Brent's air, tackling climate change, and making it safer and easier for people to choose active, green travel in our borough. Our Healthy Neighbourhoods were always trials and we promised to listen to local people before we made any permanent decisions.
'Conditions attached to the Government funding meant we had to implement these schemes quicker than we would have liked. In addition, for various reasons we could not implement some of the schemes fully. We invested in extensive community engagement over the period of the trials and it was clear that the schemes we are taking out were not supported. However, it was clear residents want to see measures that can reduce traffic, improve air quality and improve road safety.
'Now, we want to work with our communities on measures that do work for them to create less polluted and more pleasant streets. We're also delighted that 26 of our School Streets will be made permanent – this shows there is appetite for change, and we will continue to build on that success.'