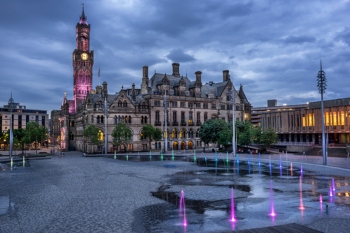 New research has revealed the towns and cities in England that could make the best use of the Government's levelling up funding.
The Levelling Up Opportunity Index found Bradford had the strongest case for economic support as part of the levelling-up agenda,as well as significant capacity for new economic growth.
It was followed by Wolverhampton and Coventry, with Luton and Plymouth coming joint fourth.
The Index, published Etopia Homes and peer reviewed by WSP Strategic Advisory, uses a combination of "negative" indicators such as low current GVA per head and "positive" indicators such as the amount of brownfield land earmarked for development.
England's 34 biggest cities and towns outside of London were ranked on each of six key indicators and given an overall levelling-up opportunity ranking.
Dr Tom Arnold of the Heseltine Institute for Public Policy, Practice and Place at the University of Liverpool, said: 'This study gives a good indication of the economic gap between our most successful towns and cities, and those that could benefit most from targeted support to unlock their true economic potential.
'The economic benefits of creating thriving, self-sufficient city-regions – not just for those that live there, but those who live within commuting distance – have been well understood by previous governments. Improving the economic fortunes of large towns and city-regions is crucial to the prosperity of places within commuting distance.'