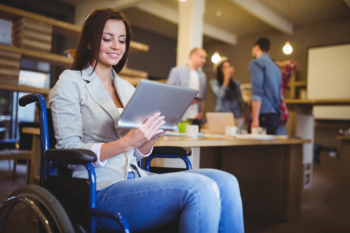 After years of austerity in the public sector, the Government is giving the sector a cash boost to encourage councils to roll out the use of digital technology.
Last June, it was announced that 12 councils across England will each receive funding to run pilot programmes to explore the use of digital technologies and platforms in the delivery of social care.
The grants form part of the Social Care Digital Innovation Programme being run by NHS Digital and the Local Government Association. Each council will receive £20,000 to run a discovery phase investigating how technology could be used to address a specific local social-care challenge. Half of these projects will then be approved to receive further backing of up to £80,000 to create and implement their proposed solutions.
James Palmer, programme lead for the Social Care Programme at NHS Digital, said: 'The successful projects span a wide range of areas, from assistive technologies to predictive analytics. This funding will give the local authorities a chance to identify and investigate a local problem before testing out a potential solution. They will be sharing their experiences from the pilot projects, adding to our collective knowledge of how digital can effectively be used to support the delivery of social care.'
Proposals which are in the discovery phase include a project run by Wirral MBC to explore the use of biometrics in supporting people with autism and learning disabilities. In another project, the London Borough of Havering is to investigate the possible introduction of a digital 'skills passport' to help simplify employment checks and the provision of staff training.
The other ten council areas that will receive discovery phase funding are Sunderland City Council, South Tyneside MBC, Stockport MBC, Lincolnshire CC, Nottingham City Council, Shropshire CC, Bracknell Forest Council, Cambridgeshire CC, Haringey LBC, and the Isle of Wight CC.
The authorities were picked from a total of 133 across England which were eligible for the programme, 80 of which applied to receive funding.
Kate Allsop, executive mayor of Mansfield and digital lead on the LGA's Community and Wellbeing Board, said: 'The councils selected have chosen some important areas to address, ranging from exploring new methods of linking residents with community resources, to addressing social care provider workforce shortages.
'In the next three months, they will be engaging with users to explore whether there are digital solutions to improve the lives and experiences of people needing social care. Projects will be designed around the needs of service users and complement the work of health and social care professionals. We will ensure that learning is shared across the sector.'
In Sunderland, the data from Smart technology will be used to help staff work together to support people's individual and specific care needs. During the first phase of the project Sunderland City Council will be working in partnership with Sunderland Software City, Digital Catapult North East and Tees Valley and Urban Foresight.
The partnership will explore how the adult care sector can use Smart digital technology to meet future challenges such as the increasing demand on services from an ageing population.
Sunderland City Council cabinet member for health and social care, Dr Geoffrey Walker said: 'The council is at the cutting edge of using assistive and digital technology to support residents with their individual care needs. Working with our clients we have tested a range of devices to help people with a variety of conditions.
'Feedback from those taking part, staff and residents alike, has been extremely positive showing that assistive technology can be used very effectively to help support people to remain independent for longer, improve the quality of life for residents and their families/carers, and also save money from an increasingly limited budget.'
Fiona Brown, executive director of the people services directorate at the council, said: 'Based on the Office for National Statistics 2014 population projections, the percentage of over 65s in Sunderland will increase from 53,000 in 2017 to 68,800 in 2030 (a 27% increase).
'Across Sunderland, people are using technology in their everyday lives, such as mobile devices, apps, wearables and home automation. Indeed the scheduling and delivery of home care in the city has been one of the first services to begin to benefit from this technology.'
Case study: UNICORN
It's also crucial to have a secure communications network in place to underpin any digital transformation. BT has developed a network for public sector organisations in South East England, called Unicorn (Unified Communications over Regional Networks), in partnership with Surrey CC and others. The network has been in place since 2012 and has helped participating partners to save money, as well as increase collaboration in areas such as libraries.
The Unicorn contract is a managed voice and data network for the public sector and covers a vast range of services from hundreds of global brands including broadband, WAN, Wi-Fi, cloud and many others. More than 25 local government organisations can now buy communication products and services without going to tender, cutting months off standard delivery timescales. Their combined buying power allows significant savings over what they would achieve by buying as individual organisations.
The current Unicorn partners include Surrey CC, East Sussex CC, the 11 boroughs and districts within Surrey, Royal Berkshire Fire and Rescue Services, Bracknell Forest Council, Central Surrey Health, and Surrey schools.
The Unicorn partnership brings benefits in economies of scale, no tendering process, faster procurement and more expert support for developing IT and communication solutions.
Mike Brett, enterprise infrastructure manager at East Sussex CC, said: 'By using the Unicorn partnership, we made sure that we got the best value-for-money out of a restricted procurement. Because Unicorn ordered the kit, prioritised it, tracked progress and delivered it, we were able to roll out a significant programme of all-new equipment – and get it up and running – in record time.'
Case study: LANCASHIRE
Lancashire Care NHS Foundation Trust provides care for around 1.7m people in the county. As many of its 7.500 staff work in the community, visiting families and individual clients, being able to stay in touch and work 'on the go' is crucial, but mobile signals inside the Trust's buildings made things difficult, and many staff spent their days travelling between sites. The solution involved the adoption of EE's new Wi-Fi Calling Technology.
The Trust knew staff needed mobile devices and had experimented with things like nanocells to boost mobile signals indoors, but this was only small-scale so they needed something bigger. Managers were interested in using Wi-Fi technology which carries mobile calls over a building's Wi-Fi network, but few suppliers were offering it on a commercial basis.
'We had other mobile suppliers, but none of them were that keen to offer Wi-Fi calling but EE opened it up straight away', says Mohammed-Iqbal Adam, health informatics. Telecoms and IPT manager at the Trust.
With EE already supplying a data VPN and looking after many of the Trust's mobiles, it made sense to use its Wi-Fi Calling solution. EE IT managers helped the Trust to get their corporate Wi-Fi network set up to support Wi-Fi Calling and the whole Trust was soon making and receiving calls indoors without any glitches.
Not only did the system meet the Trust's demands for connecting thousands of staff across hundreds of sites, it also saved it a lot of money. As a free service as part of EE's tariffs, it meant huge potential savings compared to indoor coverage solutions.