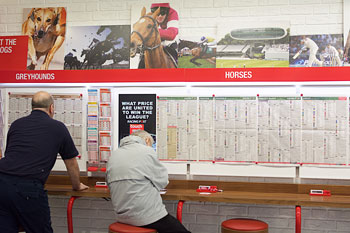 High streets risk losing another full rate paying high street retailer as betting shops come under pressure.
How we forget the impact of the financial crisis on town centres a decade ago? It was a tumultuous period that saw a huge contraction in the retail sector, with many familiar high street names going to the wall, and a crippling downturn in the property market, both residential and commercial. At the same time, the public sector began to disinvest in town centres, resulting in the closure of museums, libraries and galleries, all traditional footfall generators.
Against this backdrop, it's difficult to see bookmakers – often unfairly derided as a blight - as anything other than a boost for the high street.
In the "good old days", bookies went unnoticed because the high street was much more diverse. With the collapse in the retail sector and the shift toward the edge of town, the bookmaker has become more visible, often a point of criticism from politicians. They forget that these facilities have been in these communities for generations, paying their rent and rates, employing local people, providing a community hub where people can gamble safely and responsibly and, crucially, supporting other local businesses. Studies have shown that customers who visit the local bookmaker then go on to spend another £20 in nearby shops.
At Scotland's Towns Partnership, the leading advocate for town centre regeneration, we work closely with the bookmakers and the Association of British Bookmakers as core partners because we see the bookmakers as one of the anchors of our town centres.
Bookies substantial direct and indirect contribution betting shops make to the wider economy. Betting shops employ 52,000 people, more than the rest of the gambling sector combined. Those staff invest their wages in the local community which, in turn, helps support other retailers and service providers. And unlike other forms of gambling, such as lotteries, bookmakers manage a huge retail estate, with around 8,700 shops across the UK. Each shop contributes around £122,000 in taxes and business rates, supporting both the national and regional economy. Collectively, betting shops contribute more than £1bn to the public purse, and around £270m in support of horseracing, an industry which itself sustains around 17,400 full time equivalent jobs and generates £3.45bn for the UK economy.
One organisation called Landman Economics sees things differently. They claim that while £1 billion of average consumer spending supports around 21,000 jobs across the UK, £1bn of expenditure on gaming machines in betting shops (FOBTs) supports only 4,500 jobs. Thus, in their analysis, an increase of £1bn in spending on FOBTs destroys just over 16,000 jobs in the UK.
Landman base their case on the assumption that each set of four FOBTs support just one full time job. In reality, FOBTs are part of a mix of products in betting shops which, collectively, help to support an average of five jobs per shop.
Middle-class idealists (and presumably Landman Economics) may believe that a betting shop customer, deprived of his local bookie, will take his stake money to the local boulangerie or coffee shop instead. Some may, but I think it is not unreasonable to assume much of the stake money will be spent on areas yielding low levels of local employment such as lotteries, scratchcards and amusement arcades.
People will always gamble. Provided there is support for those who get into difficulty, and this is an area where bookies take the lead, then the presence of betting shops on the high street should not be a cause for alarm. Those in Government who demand a purge on gaming machines in betting shops cannot take the high moral ground when they benefit from the National Lottery.
Bookies have been a fixture of our towns for six decades. When many retailers moved out of the town centre, the bookmaker remained loyal. In doing so, they helped encourage people back into our town centres and provided a vital economic stimulus for the rest of the retail sector. Those who call for a clamp down on bookies should consider the consequences for jobs, investment and the future of our town centres.
Phil Prentice is chief officer at Scotland's Towns Partnership