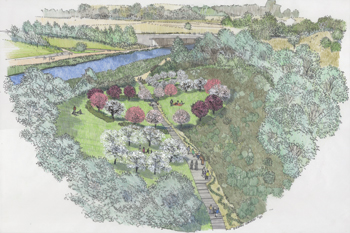 Blossoming tree circles will be planted in cities across England, Wales and Northern Ireland over the next five years, as part of a new project to signal 'reflection and hope'.
The National Trust and partners will work with local communities to design and plant the new blossom spaces. The Trust also hopes to embed an annual marking of Spring blossom season, emulating Japan's hanami, to boost tourism and help people connect with nature.
Hilary McGrady, director general at the National Trust, said: 'This project is just one element of our ambitions to plant more trees and to address Britain's need for green space and nature where people live; but it has an important part to play.
'If, by creating these blossom spaces, we can create areas for people of all ages to take notice and connect with the natural world - while also creating havens for urban nature – that has to be a good thing.'
The first blossom circle will be planted at the Queen Elizabeth Olympic Park in Newham, the same borough as the temporary NHS Nightingale hospital in London. The space - which includes 33 UK grown trees to represent the 33 London boroughs - will provide a place to reflect on the impact of COVID-19 on the capital.
Mayor of London, Sadiq Khan, said: 'This new public garden will create a lasting, living memorial to commemorate all those who have lost their lives in the pandemic. It will be a tribute to the amazing ongoing work of our key workers and create a space for Londoners to contemplate and reflect on all this global pandemic has meant to our city and world.'
Blossom inspired spaces are also in the pipeline for Newcastle, Nottingham and Plymouth.
Photo: Davies White