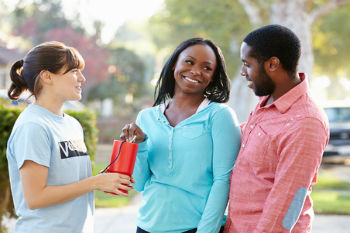 Birmingham City Council is considering proposals that would see the number of face-to-face charity fundraisers in the city centre reduced by more than 70%.
Teams of up to six fundraisers — or 'chuggers' (an amalgamation of 'charity muggers') — currently operate over seven city centre zones. This means up to 42 fundraisers could be asking people to sign up to regular charity donations on any given day.
Officers from Birmingham City Council's Licensing and Public Protection Committee have proposed the number of fundraisers be limited to two per zone, but the Public Fundraising Association (PFRA) requests the number be reduced from six to four.
The PFRA, the standards and membership body for organisations carrying out face-to-face fundraising, has also formulated a number of other proposals, including no more than three zones to operate on any given day.
The proposals, if agreed at a committee meeting next week, would see a maximum of 12 fundraisers operating in the city centre on permitted days, a possible reduction of 71%.
Chris Neville, head of licensing for Birmingham City Council, said: 'While the council doesn't want to stop charities from engaging with potential donors, it must also balance the feelings of the general public who may feel intimidated and retailers who may have been adversely affected by face-to-face fundraising.
'The PFRA's proposed site management agreement does show a willingness to work in partnership with us to ensure charities can fundraise without detracting from other activities in the city centre, however it is hoped a further reduction can be agreed.'
Peter Hills-Jones, chief executive of the Public Fundraising Association said: 'Birmingham is a great city, proud of its heritage and its future. Our charity members understand this and want to ensure the city centre is somewhere residents and visitors alike feel is welcoming.
'We have already established voluntary agreements with over 100 councils, which balance this with charities' equal need to raise vital funds. I hope the city council approves this significant reduction so we can begin working to improve fundraising in the UK's second city.'