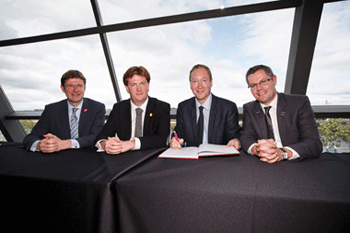 Ministers and South Lanarkshire have signed a £1.13bn investment deal to bring jobs and new infrastructure to the west of Scotland.
It's hoped the City Deal will inject £170m into the area to fund major projects over the next 10 years, with eight local authorities borrowing £130m and the UK and Scottish Government each providing £500m of grant funding to the deal.
Deputy leader of South Lanarkshire Council, Cllr Jackie Burns signed the deal along with chief secretary to the Treasury, Danny Alexander MP, and local government minister, Derek Mackay MSP, at the Glasgow Science Centre.
Cllr Burns said: 'I was delighted to be able to sign the City Deal on behalf of South Lanarkshire Council today.
'It is a massive investment in the City Region economy which will bring with it tens of thousands of jobs and will no doubt unlock billions of pounds of private sector investment as well. We look forward to working closely with our other partners to deliver this significant and large-scale project over the coming years.'
Alexander said: 'This is fantastic news for residents of the city and the Clyde Valley region, as it means those who know Glasgow best - the people who live and work here - can decide where this investment can benefit them and their families most.'
The leaders of the seven other local authorities participating in this City Deal also signed. In attendance were: Gordon Matheson (Glasgow City Council); Rhondda Geekie (East Dunbartonshire Council); Jim Fletcher (East Renfrewshire Council); Stephen McCabe (Inverclyde Council); Jim McCabe (North Lanarkshire Council); Mark McMillan (Renfrewshire Council); and Martin Rooney (West Dunbartonshire Council).