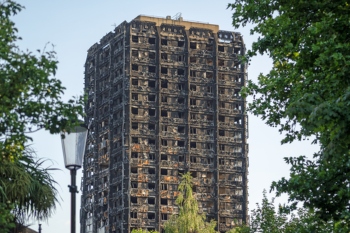 A new Bill aimed at strengthening safety standards for the construction of high-rise buildings will be published today four years after the Grenfell Tower fire.
The Building Safety Bill will introduce a number of reforms, including the establishment of a Building Safety Regulator to hold to account those who are not properly managing building safety risks.
'This Bill will ensure high standards of safety for people's homes, and in particular for high rise buildings, with a new regulator providing essential oversight at every stage of a building's lifecycle, from design, construction, completion to occupation,' said the housing Secretary, Robert Jenrick MP.????
'The new building safety regime will be a proportionate one, ensuring those buildings requiring remediation are brought to an acceptable standard of safety swiftly, and reassuring the vast majority of residents and leaseholders in those buildings that their homes are safe.'
The Bill will ensure there are clearly identified people responsible for safety during the design, build and occupation of a high-rise residential building, and it will give residents more routes to raise safety concerns.
It will also extend rights to compensation for substandard workmanship and unacceptable defects.????
Minister for building and fire safety Lord Greenhalgh said: 'The comprehensive steps we are taking today will ensure that industry and the regulatory system fully address the concerns raised?in the "Building a Safer?Future" report?by Dame Judith Hackitt.
'Though the overall risk of fire across all buildings remains low, we can't be complacent – the more robust regime will take a proportionate and risk-based approach to remediation and other safety risks.????
'And by increasing our measures of enforcement, we will make sure industry follows the rules – and is held to account when it doesn't.'
Cllr David Renard, housing spokesperson for the Local Government Association, said: 'Thousands of dangerous buildings still need remediating now and the costs of doing so must not fall on innocent leaseholders and social housing tenants. The Government needs to go further to help councils, housing associations and leaseholders meet the costs of fire safety defects that are the fault of developers and manufacturers, and bring those responsible to book.
'To be most effective, this new regime will need to be properly funded and action is also needed to address the chronic shortage of fire engineers and other competent professionals in the UK today.'
Photo: BasPhoto / Shutterstock.com