We were delighted when we learned that residents had backed our plans to rebuild South Kilburn – in the biggest resident ballot of its kind in London to date. New guidelines from the Mayor of London mean that any local authority seeking GLA funding for estate regeneration projects, which involve the demolition of any affordable homes and construction of 150 or more new homes, must show that residents support the proposals. And even though the South Kilburn regeneration, which will deliver 2,400 new homes, of which least 1,400 will be for existing council tenants, is half complete, we were still required to hold a ballot to meet the directive.
The South Kilburn programme has always been community-led, so we were pleased that residents had the opportunity to tell us they continued to support our plans. But we were aware of the risk involved, and the need for a comprehensive communication and engagement strategy to underpin it.
The ballot was held for three weeks during September and October 2019 and saw 936 eligible residents living in homes due to be demolished asked if they were in favour of the regeneration continuing. Both the 84% Yes vote, and 72% turnout, were a fantastic endorsement of our ongoing work alongside the community in South Kilburn. They were also the result of months of hard work and planning from teams across the council.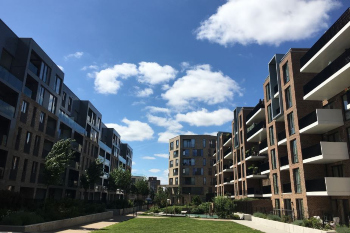 These are the five key lessons we learnt from the vote:
1. Build support from the inside
Meetings involving the council's senior management team began a full year before the ballot was approved by cabinet. We were kept up to date with progress, and were supplied with regularly updated versions of the report. This meant that the report ultimately approved by cabinet had been shaped the way everyone wanted it. During the ballot all senior managers actively campaigned on doorsteps in the community. Added together, this meant delivery teams knew they could rely on the support of senior management both in navigating governance streams and on the ground.
2. Strong landlord offer
Working together highlighted ways that housing and regeneration could make lives better for residents. When housing reviewed Brent's allocation policy, proposals were recommended that could increase the supply for affordable housing or reduce reliance on temporary accommodation. This change meant the regeneration team could develop a strong landlord offer for all households, including those living in temporary accommodation.
3. Reaching everyone
A comprehensive resident and stakeholder engagement plan resulted in meaningful conversations taking place with 94% of eligible residents. Over 200 staff hours were dedicated to speaking face to face with residents, including at evenings and weekends. Phone calls were made to residents who couldn't be reached through door knocking. Weekly information events and drop in sessions were advertised on all flyers and posters, with around a quarter of all eligible residents attending at least one event. Key information was translated into different languages. And we also engaged with the local nursery school, primary school and community groups, who encouraged the community to use their voice in the vote.
4. Communicating consistently, with clear calls to action
We strongly believed all communication needed to be grassroots-up, using real voices from the community. We also wanted our campaign to feel like a natural extension of our past communication and engagement. The campaign used a series of pre-agreed key messages and included door-to-door leafletting, posters, outdoor advertising and a targeted, paid Facebook campaign. The majority of activities were delivered internally.
5. Being honest with residents
All of us have an emotional attachment to our home and don't make decisions affecting its future lightly. We understood it was important to be upfront and honest about what a Yes or No vote would mean to individuals. And we also respected that some people would have a different opinion. Everyone needed access to impartial information and advice, so this was signposted on all our campaign materials.
Amar Dave is strategic director for regeneration and environment at Brent Council
Find out more about the South Kilburn regeneration at www.brent.gov.uk/southkilburn or email ersk@brent.gov.uk