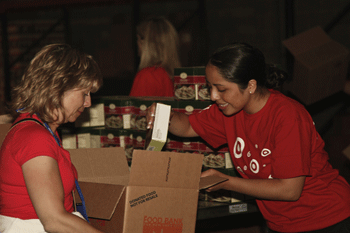 New research has revealed a 'strong and dynamic relationship' between people having their benefit payments stopped and an increase in referrals to foodbanks.
Researchers from the University of Oxford have analysed Trussell Trust foodbank data from 259 local authorities between 2012 and 2015 and found as the rate of sanctioning increased within local authorities, the rate of foodbank use also increased.
Their results showed for every 10 additional sanctions applied in each quarter of the year, on average five more adults would be referred to Trussell Trust foodbanks in the area.
The report highlighted a spike in foodbank use in 2013, when over one million sanctions were applied.
The researchers argued this related to the changes to the sanction regime and Jobseeker's Allowance that took place at this time.
These changes had included increasing benefit conditionality for claimants, sanctions imposed immediately for failure to meet these conditions, and longer sanctioning penalties, starting from a minimum of four weeks to up to three years.
Foodbanks distributed three times as much over the three year period studied – from just under 350,000 three-day emergency food supplies in 2012/13 to around 913,000 in 2013/14.
Report lead author Dr Rachel Loopstra, from the University of Oxford, said: 'These findings show clear evidence of sanctions being linked to economic hardship and hunger, as we see a close relationship between sanctioning rates and rates of foodbank usage across local authorities in the UK.'