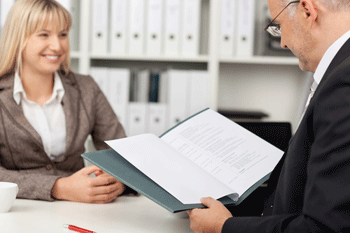 Jobseekers will soon have to 'do more' in order to claim benefits, under measures coming into force at the end of this month.
From 28 April, jobseekers must prepare for their interview with a Jobcentre Plus adviser by readying a CV, registering to the Government's job's website and setting up an email address - employment minister Ester McVey has revealed.
Designed to bring an end to the 'signing-on' benefits culture, the moves were hailed by the Department for Work and Pensions as marking a 'fundamental shift' in expectations.
Benefit sanctions could also be applied to people that haven't taken action to make themselves 'more attractive' to employers before claiming Jobseeker's Allowance (JSA).
'With the economy growing, unemployment falling and record numbers of people in work, now is the time to start expecting more of people if they want to claim benefits,' McVey said.
'It's only right that we should ask people to take the first basic steps to getting a job before they start claiming JSA – it will show they are taking their search for work seriously.'
All new JSA claimants will undertake a quarterly review with their adviser, while some could be forced to attend weekly – rather than fortnightly – meetings.
'This is about treating people like adults and setting out clearly what is expected of them so they can hit the ground running,' the employment minister added.