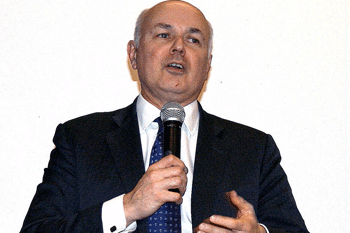 The benefit cap is providing an incentive to work for over 25,000 people, according to official figures published by the Government.
The report showed that 25,300 people who had their benefits capped moved into work, reduced their housing benefit claim or no longer claim housing benefit at all.
The benefit cap, introduced in April 2013, limits the amount of benefits a household can receive to a maximum of £26,000 a year. However, new measures announced in the Summer Budget will see the cap reduced to £23,000 in Greater London and £20,000 elsewhere in the country.
Work and Pensions secretary, Iain Duncan Smith, said, 'By introducing the benefit cap we have called time on an out of control welfare system where it was possible for people to be better off on benefits than in work.
'The cap incentivises work and we are seeing many people responding to it by moving into employment, while others have reduced their benefits claim.
'These figures show that the cap is working and we are moving towards a welfare system that is fair for those who need it and the taxpayers that fund it.'
Since the cap was introduced, 62,600 households have had their benefits capped. Of these, 40,100 households are no longer subject to the cap, with 16,300 of them moving into work and a further 9,000 reducing their housing benefit claim.
Before the cap, there was no upper limit on benefit claims, with 300 of the highest claiming families getting over £10m in benefits every year.