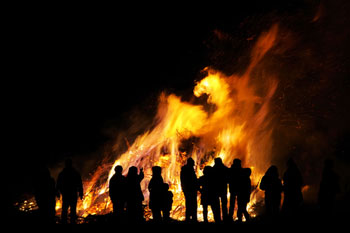 Belfast City Council has successfully secured a court injunction to get the height of a controversial bonfire reduced.
The High Court yesterday evening ordered Stormont's Department for Infrastructure to take steps to reduce the height of a bonfire which is situated on their land.
The city council says the bonfire is 'not at an acceptable safe height within the guidelines of the Northern Ireland Fire and Rescue Service.'
They warned yesterday that, at its current height, the pyre was a 'threat to life and property.'
The bonfire's builders, the East Belfast Community Initiative, characterise the fire as Unionist 'cultural expression'.
As well as ordering the Department for Infrastructure to reduce the fire's height, the injunction requires them 'to remove all excess materials from the immediate vicinity of the existing bonfire,' a council spokesperson said.
'The judge made the order taking into account a number of factors. These included elected representative concerns, community fear and apprehension, and significant risk to property and life.
'The judge emphasised that she hoped the community initiative would continue and that the people building the bonfire would see sense.
'The judge also said she will not condone unlawfulness which puts lives and properties at risk.'
The Department for Infrastructure has been approached for comment.