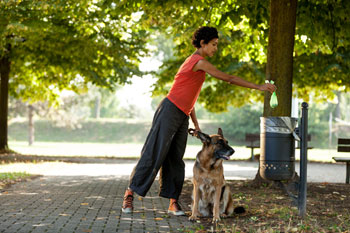 Pet owners who fail to pick up their dog's poo could soon be hounded down by a town hall through DNA testing.
Barking and Dagenham is poised to become the first authority in the UK to deploy such a measure when it unveils the solution at a meeting tomorrow.
A dog's DNA can be collected through a painless cheek swab, which is sent to a laboratory and stored in the local registry.
If an owner doesn't pick up their pooch's droppings, a test taken from the faeces will allow it to be traced back to the dog's home with 99.9% accuracy.
However it is yet to be established how pet owners in the district could be encouraged to have their dog's DNA registered with international biotech company PooPrints UK.
Council leader, Cllr Darren Rodwell, said: 'We are the first council in the country to get really tough on dog mess and pet owners who do not act in a socially responsible way. The vast majority of dog owners in Barking and Dagenham are socially responsible but unfortunately a selfish few think it's ok to not clean up after their pet.
'Dog mess not only spoils our streets - it's also a health hazard and especially to young children. It's why we are using this innovative approach in making a cleaner, healthier and better Barking and Dagenham.'
Gary Downie, managing director of Streetkleen – licence holders for PooPrints DNA testing - said: 'I believe the combination of DNA testing and enforcement could be the most effective means of ensuring owners are held accountable for their dog's actions. In the US, we have experienced reductions in dog fouling by as much as 90% after introducing the programme.
'For the vast majority of responsible dog owners this should pose no problem at all. In fact, we believe that the minimal cost involved in the DNA testing will pose value for money when the selfish minority of dog owners are brought to task and public spaces in Barking and Dagenham become cleaner, greener and more pleasant environments for everyone.'