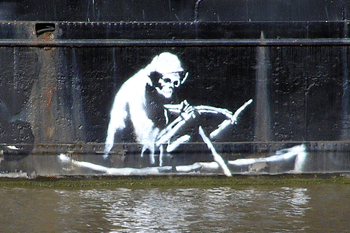 World-renowned graffiti artist Banksy has opened a new theme park 'Dismaland' at a former council lido in the seaside town of Weston-super-Mare.
Satirical art on display includes a statue of a crashed Cinderella pumpkin encircled by paparazzi, a ruined Disney style castle and a warped version of the Little Mermaid.
The ticketed event will open this weekend for a five-week show at former lido 'the Tropicana', which is owned by North Somerset Council.
It will also include work from a range of artists including Damien Hirst, Jenny Holzer and Jimmy Cauty.
Banksy said: 'I loved the Tropicana as a kid, so getting to throw these doors open again is a real honour.'
North Somerset Council leader, Cllr Nigel Ashton, said organisers had remained 'tight-lipped' about the event, with only four people at the local authority told what was actually happening.
'It gives me enormous pleasure to be hosting this world-class art exhibition in North Somerset, as well as great relief to be able to talk about it, finally,' Cllr Ashton said.
'I had a preview of the exhibition while it was still being assembled last week, and I have to say, it is absolutely brilliant. As well as entertaining, it's also incredibly thought provoking.
'I am hugely proud that North Somerset Council is hosting this event. As well as welcoming the many thousands of people who will visit over the coming weeks, from all over the world, we are also keen to use this event to profile North Somerset, the opportunities that are here, and our ambition for the area.'