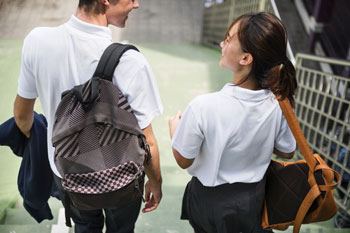 A charity has urged the Government to ban cars from the immediate vicinity of school gates at drop off and pick up times in order to improve air quality.
The charity Living Streets, which promotes walking, has published 21 recommendations aimed at enabling more children to walk to school in a less polluted atmosphere.
According to the report, which the charity has delivered to the transport minister Jesse Norman, over 2,000 primary schools in the UK are situated in pollution hotspots.
It is estimated that air pollution contributes to 40,000 premature deaths a year in the UK. Children are particularly at risk because they retain pollutants for longer.
Living Streets' research revealed that 56% of parents are concerned about the health issues air pollution causes their children.
More than a third (36%) also told the charity they would take pollution levels into account when choosing a school for their child.
Almost a third more (30%) had been put off walking their children to school because of poor air quality.
Over a fifth of parents (21%) hold the misconception that children are protected from air pollution inside the car.
'More children walking to school means fewer vehicles on the road and improved air quality for everyone,' said Jenni Wiggle, director of local impact, Living Streets.
'We want more children to enjoy the benefits of walking to school and so are calling on the government, local authorities and schools to work together to support families to choose to walk.
'We would like to see more local authorities working with schools to ban people from driving up to the school gate - adding to air pollution, congestion and road danger during drop off and pick up.
'Walking to school not only improves our air quality but is a great way for children to build more exercise into their daily lives, helping them to arrive to school healthier, happier and ready to learn.'