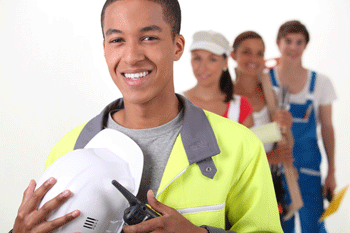 Vulnerable groups are at risk from the Government's public sector apprenticeship target, according to London Councils.
The group, which represents the 32 boroughs and the City of London, argues the number of apprenticeships for people who need additional support to enter the world of work could plummet because of the new target.
The government's apprenticeship target requires every public sector organisation to ensure that 2.3% of their employees are apprentices from April 2017.
They say it is not realistic because 50% of the target is based on the workforce of grant-maintained schools, which is not under council control.
London Councils claims this could have a negative impact on individuals with Special Educational Needs or from disadvantaged backgrounds because council resources would have to be diverted towards meeting the apprenticeship target.
Cllr Peter John, London Councils' executive member for children, skills and employment, said: 'While we support the government's plans to encourage apprentice recruitment, it is unfair to include school employees in borough workforce headcounts when calculating the apprenticeship target.
'This doubles the target for councils, yet they cannot influence schools to create more apprenticeships.'
He continued: 'London boroughs are really good at helping people with Special Educational Needs or from disadvantaged backgrounds access apprenticeships, but these more vulnerable groups of people may miss out in future if public sector bodies have to focus on a target that is unrealistically high.'
'If councils were able to count the number of apprentices they directly employ as well as those they are able to negotiate as part of their procurement activities it would result in a target that is stretching but achievable, and would incentivise them to boost the number of apprenticeships they offer to young people from all backgrounds,' he added.