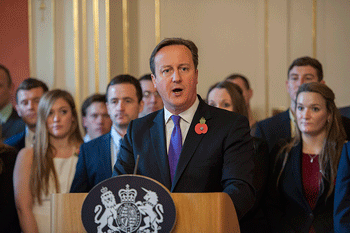 Almost 750 homes have been purchased through the Government's Help to Buy scheme since October, the prime minister has announced.
In the 12 weeks since the launch of the mortgage guarantee scheme, over 6,000 people have put in offers on a home and applied for a mortgage – Government figures suggest.
Around three quarters of applications under the scheme - which allows buyers to apply for a mortgage with only a 5% deposit – have been made from outside London and the South East.
Once approved, the mortgages approved since Help to Buy's launch in October would represent nearly £1bn of new lending to aspiring homeowners, Downing Street has said.
'Too many people have found themselves frozen out of the market in recent years as a result of the size of the deposit required,' prime minister David Cameron said.
'That is why as part of our long-term economic plan we introduced the Help to Buy scheme, so hardworking people with sufficient earnings can get on, fulfil their aspirations and enjoy the security of owning their own home.'
Reacting to the figures, Labour's shadow housing minister said: 'Rising demand for housing must be matched with rising supply if this scheme is to bring the cost of housing within the reach of low and middle income earners.'