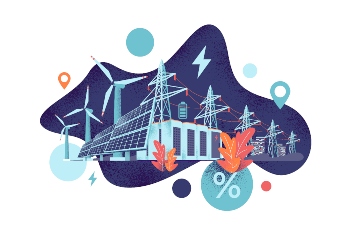 On the anniversary of Elvis Presley's death almost 45 years ago, a new blockbuster biopic promises to spark another "Summer of Elvis".
Born in 1935, the undisputed King of Rock and Roll built an enduring and formidable legacy on his ability to wow millions with his electric performances.
But while America was producing a rock legend, Britain was, in 1935, generating its own kind of electric performer: the national power grid.
And though it has also reached, and perhaps even wowed, millions, the legacy of our energy system is, understandably, less celebrated. In fact, it's starting to show its age.
Not up to Net Zero
The energy price crisis and war in Ukraine have shone a light on the need to accelerate action on Net Zero.
But, as Ofgem announced last week, Britain's energy system is not yet ready for the challenge. It needs, to paraphrase the king, to be all shook up.
To boost our energy independence with homegrown renewables requires a future-proof redesign of the system - one with flexibility at its core.
Gone are the days when Nottinghamshire's Megawatt Valley delivered a quarter of England and Wales' energy needs.
Today, rather than distributing energy produced in concentrated regions across the country, we need a system that recognises towns and cities across Britain have unique energy needs and differing capacities to produce homegrown electricity.
To harness our clean energy potential and deliver Net Zero, we need to recognise the future of energy is local.
To state the obvious, it makes sense to have the hydroelectric potential of the Mersey simmering pans of scouse in Liverpool while the sun in Wiltshire powers the ovens of Devizes to bake up some tasty lardy cakes - rather than the other way around.
The future is local
As recognised by Ofgem: 'local power grids will play a critical role in helping to reduce our reliance on expensive imports of gas, bring down energy bills and meet the country's climate goals'.
In other words, the energy networks that fuel our lives by connecting our homes and workplaces, commercial and industrial buildings, to energy sources for heat and power must adapt.
The companies that currently run these direct connections are known as network operators. There are eight distribution network operators (DNOs) across the UK.
Each DNO is responsible for operating its local power grid and planning to meet future energy demand. That means, for example, connecting new electric vehicle charging points and heat pumps to the grid.
At UK100, we have been supporting our members to work directly with DNOs to ensure they can play their part in the future development of their regional and local networks effectively.
Because, as Ofgem says: 'local authorities also play an important role and need to make sure that these network companies meet the needs of local transport and housing'.
Conflict of interest
But there are some serious gaps in the current system, with the potential to create some unintended conflicts of interest that could make Net Zero more expensive than it needs to be.
Local energy markets, run in partnership with local authorities, are the key to balancing power generation and demand flexibility.
They will also reduce the need for more connections to the grid, more wires and more power — which, as UK100's energy expert Hywel Lloyd explains, is the most expensive way forward.
But if DNOs - whose revenues are dependent on building new grid capacity — are in charge of these new markets then there will be a potential disincentive to building the localised energy systems we need, as cost-effectively as possible. The way forward
Accordingly, Ofgem has also launched a 'call for input' on four proposals for reorganising the energy system. These range from separating the local system operation function internally within DNOs to setting up new independent regional bodies.
And I want to call on all UK100 members - and local leaders up and down the country - to respond and have their say.
We believe Local Area Energy Planning (LAEP) should give a greater role and more powers to local and regional authorities to develop a balanced energy system which combines a mix of large scale power generation with local decentralised energy systems.
As we all engage with Ofgem, DNOs, LAEP, and the future of a Net Zero energy system, the new watchwords are "flexibility" and "optimisation". We need to deploy local storage and other energy assets, reach "off-grid" communities, manage demand peaks, and harness the kit we have while improving its resilience to extreme weather events - all without the expense and impact of overcapacity.
And while Government was all but silent on the role of local authorities in the recent Energy Security Strategy, it has taken heed of some of Ofgem's recommendations by announcing its plans to create a new Future Systems Operator (FSO) to 'balance the UK's electricity systems and ensure continued energy resilience and security of supply for households and businesses'.
But, at the moment, it's just that: an announcement of a plan - and one that still overlooks the vital role local authorities will play in creating the future-proof energy system Britain needs.
As Elvis said, we need a little less conversation, a little more action, please.
And, with that in mind, we hope to see more on energy security in the Queen's Speech next week.
Polly Billington is chief executive of UK100