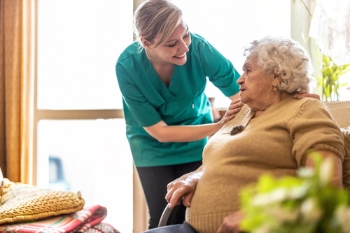 The Government's flagship adult social care reforms could cost a minimum of £10bn more than currently estimated and will require over 4,000 new social work staff, a new study has revealed.
The analysis, released today by the County Councils Network (CCN) and Newton, has looked at the impact of the Government's reforms, which include a more generous means-test and a cap on care costs of £86,000.
The reforms will also include a move towards a 'fair' cost of care, and the ability for people who arrange and fund their own care to ask their council to do it on their behalf.
The overall cost of the care reforms could be a minimum of £25.5bn over the next decade, CCN and Newton calculated. This compares to a Government estimate of £15.6bn.
As well as the cost of the reforms potentially being £10bn higher than currently estimated, the new analysis found that there will be 'significant' regional variation in implementation costs. Councils in England's counties account for 57% (£14.3bn) of the total estimated minimum costs of the reforms. This is compared to just 11% (£4.9bn) in urban metropolitan borough councils in the North and West Midlands.
CCN and Newton also warned that the new reforms would add to staffing pressures. They estimate that an additional 4,300 social work staff will be required, on top of a current vacancy rate of 1,782.
'There is clear support from local government for the government's package of social reforms, which will make the system fairer and ensure that more people do not face catastrophic care costs,' said Cllr Martin Tett, adult social care spokesperson for CCN.
'However, today's report shows there is a significant financial and operational cost to these reforms, which are likely to be significantly more than the government's estimates. We urge ministers to clearly examine these findings, which show costs are likely to be higher than the government is forecasting, and potentially devastatingly so in some regions.'
In order to properly fund these reforms, the Government could potentially need to spend half of the Health and Social Care Levy by 2032 on these proposals.
Responding to the report, Cllr David Fothergill, chair of the LGA Community Wellbeing Board commented: 'This report provides further analysis that adds weight to growing concerns that proposed reforms to social care are potentially significantly underfunded. This would be disastrous for councils, care providers and people who access care.
'With shortages across the sector, social care staff are already under extraordinary pressure and adding more to their workload with no plans for increased support or pay risks driving even more valued staff away from working in the sector.'
A Department of Health and Social Care spokesperson said: 'Our charging reforms will mean no one will have to face unpredictable care costs and we are investing £5.4bn over the next three years, including funding for local authorities, to implement them.
'Modelling has been through extensive peer review and we are confident in the department's estimate for charging reform.
'We're working closely with local authorities, providers and care receivers to deliver a smooth national transition into the new system, including learning from our trailblazer local authorities.'
For more on this story check out 'Calculating the cost of care' by Daniel Sperrin, director at Newton, and James Maker, director at the County Councils' Network, on The MJ (£).