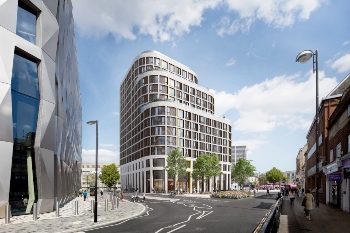 Contrary to some initial reports and fears, demand for urban living is still high. In London, one-third of homes let so far in 2022 have been to people moving in from outside the capital.
We are ultimately social creatures and the draw of community, events, shared live experiences and even the office is bringing people back to live near the hustle and bustle of our metropolitan hubs. We should aim to harness this to bolster our high street shops, cafes and restaurants. This is an opportunity to rethink housing models and broaden the variety of living options we offer in our towns and cities.
Conquering convenience
Co-living is a relatively new housing model that brings large groups of people together – trading a slice of private space to gain larger, more exciting, shared facilities. By pooling space and facilities, floorplans can be reimagined to provide amenities that would rarely be possible in traditional housing. Larger collective spaces such as gyms, working areas, games rooms, roof terraces or cinema rooms can be created, while still offering private space in individual and private studio apartments.
Co-living is an efficient way of using space, making it a great fit for urban areas that require higher density housing solutions. But more than this, it creates whole new communities that strengthen the heartbeats of town and city centres, putting new patrons right on the doorsteps of local shops, restaurants, and brands.
Trends in online shopping mean that footfall to high street shops is unlikely to return if we're still expecting people to travel in from suburbs and rural communities to shop in larger urban centres like they used to. Convenience is key, and while it's hard to compete with a computer, living around the corner or even on top of the high street makes popping to the shops an easier and more appealing prospect. Many turned to online shopping out of necessity – so isn't it time to give people the option of high quality, affordable living within walking distance of work and leisure? Just as we have learned by expanding pavement licenses during the pandemic, finding new ways to activate space works, and can add great value.
Vibrant modern living
To succeed, co-living at its best must offer something unique and different, while also getting to the heart of why people want to live sociably and to live in towns and cities. It won't be for everyone but, for some, it adds new a dimension to the convenience of urban living with an immediate social scene. The nature of the type of housing tends to appeal to young professionals – often those who embraced forms of cooperative living at university and miss the easy access to friends and activities.
It also has the added benefit of being inclusive of a car-less generation who want to be walking distance from key amenities. This is in step with the new way we should be looking at our cities post-pandemic. Not rings of commuter belt with a commercial core, but a vibrant mix of walkable fifteen-minute communities focused on people and a liveable urban environment.
If we are bold enough to embrace it, this is a chance to broaden the range of housing options and offer a new choice to those who want it. Not every site would suit co-living, nor should it – but the opportunity to bring high density, high quality, community-centric housing right to the centre of our urban hubs should be discussed as a viable and exciting option whenever new development is considered.
The challenge will be to ensure that new co-living developments are in the right place – and this will take cooperation at every stage between councils, developers, and designers to help maximise the potential of co-living to benefit communities and local economies.
Simon Bird is director at LOM architecture & design