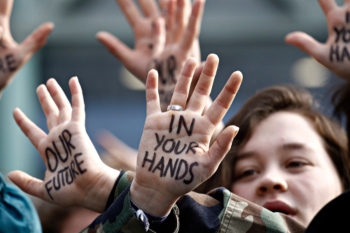 Society's window of opportunity to stop the worst impacts of climate change is fast closing. The recent report from the Intergovernmental Panel on Climate Change highlights that human actions are threatening devastation to much of the natural world. Addressing the scale of this behaviour change challenge can seem daunting, with people sometimes feeling like individual actions are insignificant compared to the size of the problem.
But a multitude of small actions can create big change and we must all play our part in achieving a net zero future. Lots of us are already finding ways to live greener lives. However, to achieve the collective shift to a low carbon society, we all need to do more. The UK's net zero ambitions will not be achieved without significant behaviour changes.
So how can local government help to catalyse change and create the right environment for low carbon actions to become mainstream?
Heating homes
UK homes account for a fifth of all carbon emissions, so we must rethink how we heat them. This will require a regionally tailored approach, depending on the opportunities and challenges of each community. Local authorities and councils are best placed to understand the needs of their area and will be vital in helping to roll out energy efficiency measures. While the last few years have seen huge progress made, many councils don't yet have strong plans for how they can decarbonise.
The current costs of low-carbon heating are prohibitive for many people, even after the introduction of the Boiler Upgrade Scheme. Central Government should therefore be providing households on low incomes free heat pumps to kick-start the market. The more heat pumps that are installed, the faster the cost will come down for everyone.
Complementary energy efficiency measures, including insulation and double glazing, are also essential. These kinds of measures alongside low-carbon heating will help households reduce their energy bills and have warmer, healthier homes while slashing carbon emissions.
Transport
Transport accounts for more than a quarter of the UK's carbon emissions. The local-level expertise and connections that councils have with their communities can help to support the transition to low carbon travel.
As electric vehicle (EV) uptake continues to rise, it is necessary that public chargepoint infrastructure is expanded. While they are becoming more accessible, widespread access to chargepoints is a known barrier to people considering switching to an EV. Government is actively addressing this, and councils can support the transition by installing more public EV chargepoints, particularly for those with no off-street parking.
We know from our work helping to deliver the Department for Transport's On-street Residential Chargepoint Scheme that many local authorities want to implement low carbon initiatives, and specialist support can enable action. Engaging with residents, local businesses, public sector and large employers to build support for and demystify EVs is also important.
Local councils can lead by example with the adoption of electric cars, vans and zero emission refuse vehicles in their own fleet, in tandem with fuel efficiency and mileage management. Due to the lower running costs of EVs, switching can also save organisations money too, as demonstrated through our long-standing work with hundreds of fleets over the last decade. Action by local authorities also encourages private businesses and other public sector organisations to adopt electric vehicles too.
Of course, there's an even cleaner, greener and cheaper way to travel: by foot or by bike. Active travel can be encouraged through improvement and expansion of walking and cycling infrastructure, and the funding of shared bike, e-bike and e-cargo bike schemes. Implementing training and engagement programmes within communities and schools is another effective tool.
Creating tipping points
Having a supportive community where action is welcomed and mirrored by others is an incredibly powerful behaviour change tool. We need to make greener ways of doing things part of our culture. The context is ripe for change here. Public concern about the climate crisis is at near-record levels.
Sending strong signals through policy can help produce 'A-ha moments' that drive behavioural change. Small interventions, once triggered, can grow into systemic changes – as new research from Exeter University highlights. Local policy leaders can help to create tipping points at which it becomes the natural thing to do to adopt a climate positive behaviour.
Throughout the UK, there are brilliant examples of local authorities showing real leadership, action and innovation. But we must all keep finding ways to go further and do more to inspire the scale of change needed. We all stand to benefit from a low carbon future and local authorities have a critical part in getting us there.
Stew Horne is head of policy at the Energy Saving Trust