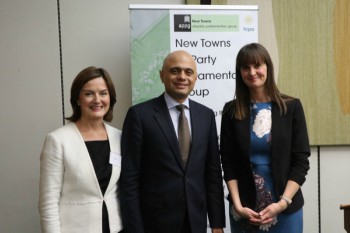 A new All-Party Parliamentary Group (APPG) was launched yesterday to 'shine political spotlight' on growth opportunities in new towns.
The APPG will consider the successes and failures of existing new towns - from Warrington to Stevenage - in order to learn from past mistakes and to help shape future Government policy.
The new towns programme grew from the need to provide the population with houses and jobs after the Second World War. It was established by the 1946 New Towns Act.
The parliamentary group will be chaired by Lucy Allan MP for Telford and the secretariat will be provided by the Town and Country Planning Association (TCPA).
'I am delighted to have launched the All-Party Parliamentary Group on New Towns in Parliament alongside the TCPA and the Secretary of State for Housing,' said Ms Allan.
'We all share a passion for the vision and ambition that the New Town movement represents and as the housing crisis continues, it is clear that new towns have an important role to play in Britain's future and in the lives of the next generation seeking to build a better life.
'The APPG will also aim to tackle new town challenges such as aging infrastructure, poor private rental housing and connectivity, as well as deprivation, in order to influence future Government policy and keep New Towns centre stage.'
The APPG will be holding three high-level parliamentary roundtables on key issues in 2018: providing high-quality homes in New Towns, now and in the future; Healthy New Towns – improving the health and wellbeing of New Town residents; and Unlocking skills, innovation and enterprise in New Towns.