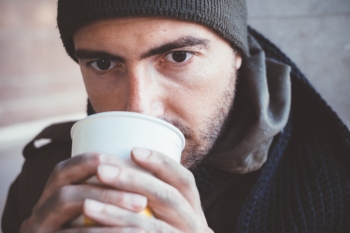 A luxury tour bus formerly used by chart-topping musicians seems an unlikely way to help the homeless. But in Salford, Greater Manchester, a former social worker has bought a bus for £30,000 with the help of a development company and local hoteliers and is now providing secure accommodation for homeless people all year round.
Sid Williams says his 'Embassy' bus is aimed at males over the age of 26, 'the ones who tend to get stuck in the slow lane when it comes to rehousing'. After spending a limited time aboard as a stop gap to help them get on top of any addiction or mental health issues before being referred for housing.
The project has its critics who say the shortage is not of places for men with relatively low-support needs but for the majority with complex needs who can only be housed in hostels with specialist-trained staff. Others, including Manchester mayor Andy Burnham, have welcomed the initiative.
Either way, it is one way at a local level of dealing with homelessness which has reached record levels.
Latest figures show the number of people sleeping rough on the streets has risen by 160% over the past decade. Last year the number of deaths among homeless people rose by more than a fifth.
Despite a government pledge to halve homelessness by 2022 and end it altogether by 2027, the current situation shows little sign of improving. It has been described as a 'humanitarian crisis'.
Local government leaders who see the effects of homelessness and rough sleeping in their areas are pressing for urgent action. The District Councils' Network (DCN) says the 'alarming' figures should be a wake-up call to the Government.
DCN says districts play a key role preventing homelessness and making sure everyone in their communities has a secure affordable place to call home.
But there are major problems in the way of the Government achieving its stated wish to end homelessness. As Tom Beattie DCN vice-chair, explains, councils must be enabled to make sure every partner in the battle against homelessness is given the tools and resources to play a full role.
This, he says, means ending the freeze on Local Housing Allowance and ensuring that it covers the costs of housing, and giving councils the freedom to deliver affordable housing at scale again including by allowing them to keep 100% of Right to Buy sales receipts.
Homelessness charity Shelter is also calling for urgent action. 'You can't solve homelessness without homes, so we are calling on all parties to commit to building the social homes we need to form the bedrock of a more humane housing system,' its chief executive Polly Neate warns.
A further problem often pointed to by experts in the field is the depletion of mental health and other welfare services to help those whose problems are a factor in their homelessness.
Nevertheless there has been some very successful Government-led action. The Rough Sleepers Initiative has seen dramatic reductions in numbers of homeless of around a quarter in the areas where it has been put into action. But in other areas not benefiting from the resources available, it has gone up by more than 40%.
What is needed, according to Lee Buss, director of operations at Riverside, as major provider of social housing and the country's largest provider of supported housing – hostels – is a longer-term and more targeted approach.
RSI funding is currently limited to a year, making it extremely difficult to recruit good quality staff and plan ahead. To be more effective, Buss says, it needs to be for at least three years and should be extended to the whole country.
The Housing First policy, in which a homeless person is placed immediately in their own home and any problems dealt with in time, has produced dramatic results. Riverside's project in the Medway area saw a reduction in homeless of more than half in a matter of months.
The scheme is a departure from traditional approaches in which a homeless person is taken into a hostel and their addiction or mental health problems are tackled before they are able to move into more permanent accommodation. The problem with that is it takes up a huge amount of specialist staff resources and runs the risk that a small proportion with complex needs are seen as uncooperative and, in the worst cases, sent on their way with problems unsolved.
A mixture of approaches – with or without converted tour buses – appears to be the way forward to reaching the Government's stated objective of eliminating homelessness.
'If Housing First and the Rough Sleepers Initiative, together with improved mental health and other services were scaled up across the country, the Government would be half way to achieving its target', says Buss. 'With the right funding and services put in place ending chronic homelessness is absolutely achievable.'
Today is World Homeless Day - for all the latest news and analysis of this issue please visit www.localgov.co.uk/Homelessness