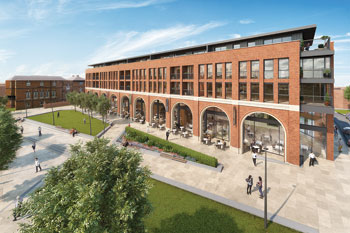 When it comes to housing provision, the field of play is changing for local authorities. With demand for homes increasing, the pressure's on for councils to boost supply. Clearly, delivering development on this scale is a huge challenge, but with the right approach it's entirely achievable. In practise this means turning a spotlight on the old ways of working and coming up with fresh and creative alternatives.
It's widely recognised that developers, land agents and even housing associations have no formal obligation to a borough when it comes to reducing the shortfall of homes in an area. That's not to say they don't want to help, but housing legislation puts the responsibility in the hands of the local authorities.
As a result, many local authorities are taking control and looking to push forward development themselves. This was highlighted in work recently carried out by the Royal Town Planning Institute (RTPI).
Its report, Local Authority Direct Provision of Housing, found that more and more councils are taking the initiative when it comes to providing new homes. Of those surveyed, 65% reported direct engagement in housing delivery and 44% said they'd established their own housing company. Change is clearly happening. It's perhaps no surprise that 30 housing companies were set up by local authorities in 2017 alone.
And some of these are already making serious strides forward. For example, Birmingham City Council's housing company is now building more homes than the 50+ housing associations that have stock in the city. You have to hand it to them; that's impressive.
But what about those authorities who don't have the scale, skills or perhaps confidence to bring forward new homes at this rate? And then there's the matter of managing the private sale of any new properties and taking on the financial risks that come with it. All in all, it's a pretty daunting prospect and, despite the compelling need case, you might think that many local authorities could be put off.
But not so. On the back of these challenges a new type of partnership is taking shape; one that allows councils to share risk with the private sector. Aylesbury Vale District Council (AVDC) is a solid example of this kind of working. It joined forces with Durkan to deliver a major mixed-use scheme called The Exchange. Designed to provide flexible commercial space, restaurants, a public square and much-needed new housing, it is playing an integral part of their £100m town centre regeneration.
At the core of the partnership though, was the way the council worked with us to fund the project. It used its prudential borrowing capability to procure debt and loaned it to us at a much better commercial rate than anything else available in the private sector. This meant AVDC could fund 75% of the project costs, knowing that Durkan would underwrite the risk on construction and sales. The remaining debt was also used to fund the commercial element of the development, which would be retained by the council.
The partnership delivers beyond the construction stage too. When the work's finished, the council will retain ownership of the freehold for the full development and will grant a lease for the apartments to Durkan. This means AVDC benefits from the rental of restaurants and commercial units, while Durkan draws revenue from the sale of the apartments and the associated ground rents
We'll repay the loan from the proceeds of the sale and, coupled with a share of any uplift in the properties' value, return on investment is guaranteed for the authority.
It's just one example, but it shows how valuable these partnerships can be. The RTPI's report highlighted the potential for local authorities to become a major contributor to meeting housing need. And by creating partnerships with developers there are real opportunities out there to generate what has been termed 'profit for purpose'; long-term income that can be diverted to support other essential services.
For Aylesbury, it's this type of profit that will help it achieve its long-term goals. It's looking to be financially self-sufficient and council tax free by 2023. That's an ambitious target and one that means it's becoming more entrepreneurial and commercial in the way it delivers services.
But for schemes like this to be successful for both local authorities and developers, there's a job to be done in finding the right partner. It's hugely important that councils can choose a company that understands its motivations. For the developer, this means having an appreciation for a local authority's priorities. Essentially, understanding that any new project can't just be about generating profit, it's got to address local need too.
It's safe to say that when taking on a new project, a council's likely to already have a decent idea of where it wants to build and how many homes it needs to deliver. So, it's the job of the forward-thinking developer to show how they can add value to the process. It's got to bring a real problem-solving approach to the table.
It's something we know we can offer and were able to show during AVDC's rigorous procurement process. I believe it was one of the factors that was key to us making the grade, and something that developers need to make sure they're considering in the future. Partnership working is a term that people like to throw around a lot these days when talking about joint projects - but it's no good just paying lip service to it. It's got to go further than that.
Funding is difficult to come by and all signs suggest the problem won't be getting any easier for a while. In light of this, we're going to need partnerships between the public and private sector more than ever.
Fraser Wells is managing director of housing partnerships at Durkan