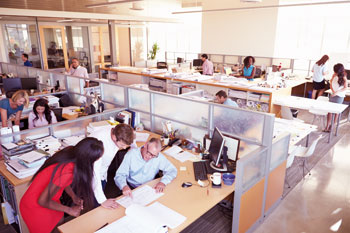 An increasing number of local authorities have set up their own companies to deliver services and protect jobs. Laura Sharman chats with Peter Hawes, managing director at Norse Commercial Services, about why he thinks the time is right for the creation of a National Association of Local Government Companies.
LGN: Why have we seen an increase in the number of local government trading companies in recent years?
Peter Hawes: Increasing financial pressure on local authorities has meant that they are having to evaluate different, and sometimes radical, ways to deliver their range of services. This has led to them considering a number of different models, offering a variety of advantages and addressing a range of objectives.
The main drivers for local authorities to change the way services are delivered are: achieving cost savings, adding social value, increasing economic activity, improving management skills and capacity, and being flexible enough to meet changing priorities. All of these objectives can be met with a separate trading company.
LGN: What advantages and benefits have these companies offered to local government?
Hawes: There are number of positive outcomes that local authority trading companies can offer.
Probably the key point here is that these companies have the ability to trade in the wider market, leading to profitable models that return revenue to local authority, and help create a more commercially-minded culture.
This results in greater cost efficiency, through economies of scale in areas including service delivery and administration and support services, together with better utilisation of resources.
It also means continuity of front line service delivery and standards, as these organisations take on the services having properly evaluated the on-going costs.
There is a further benefit in that they provide long-term job security for staff, who transfer into the new organisation, reducing the risk of redundancy which applies if they remain in the direct employment of a local authority which is downsizing.
LGN: What are the main challenges in setting up and maintaining a local-authority company?
Hawes: Transferring front line and support services, staff, assets and responsibilities out of a local authority is never going to be without its problems.
Investment and employment issues, the need to restructure, lack of commercial experience, changes in such things as reporting procedures and mobilisation, are all fraught with potential for disagreement.
The benefits to the local authority of separate trading companies can be significant, but the path there needs careful planning, thorough and robust assessment of the objectives and, most of all, commitment on all sides.
LGN: Why do you feel there is a need for creating a National Association of Local Government Companies and what would the main purpose and objectives be for such a group?
Hawes: These organisations need to have a voice that will support and augment their authority's own lobbying. They are responsible for frontline services and key asset management, and they could therefore benefit in a number of areas from being part of a national association.
Take knowledge sharing for instance; as new companies are formed and staffed by people not familiar with the more commercial world, how to work within the company model may well be daunting.
Similarly, involvement in investment and financial issues might be disciplines that are new to some of the management team. The ability to call upon the experience of others within a national association would be extremely helpful.
I've no firm ideas at the stage as to just how such an association would function or what its core objectives would be, but I'd certainly see potential for lobbying and furthering specific causes, collaborative procurement and specialist knowledge banks.
LGN: Would the association be used to lobby the Government and do you already have an idea of what you will be lobbying for?
Hawes: Lobbying would be one tactical option open to such an organisation, but as to specific causes I feel that is a bit further down the line and would be the result of debate and consensus amongst those interested in forming such an association for mutual benefit.
LGN: What benefits would an association provide for the staff working for local authority companies?
Hawes: A very good question as it relates to the key resource of the authority and of their company.
An association would be able to provide advice on how to deal with transferring staff, ensuring their long-term security and stable employment.
As I said before, the commercial skills of the trading company should also provide job security as it has the ability to grow. These organisations tend to be more focused on training and development, recognising the commercial benefits of skilled and motivated staff.
At Norse, we have taken great pride in seeing people's commercial skills develop once they have made the transition from local authority employment into the company.
LGN: How do you see local authority companies progressing in the future, and can they act as catalyst for further change in local government?
Hawes: More local authority companies are likely to be formed as local government bodies respond to budgetary pressures.
They offer a viable alternative to outsourcing through the tender process, and their ability to trade externally means that there is an opportunity to expand and return profits to the authority.
It has been the experience at Norse that operating in a commercial environment will change the corporate culture within the company, and this in turn will beneficially influence the culture in the local authority itself.