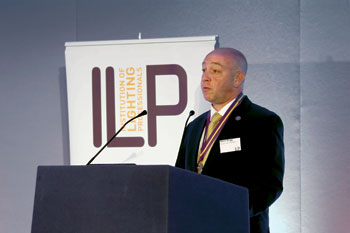 I've lost count of the number of times I've heard street lighting referred to as the Cinderella or poor relation of local government. Luckily, the sector has a new voice to champion the importance of the humble lamp post in the form of the new president of the Institution of Lighting Professionals (ILP), Kevin Grigg.
Mr Grigg, who took up the position in June and is also area manager north region for Urbis Schréder, has a straightforward but effective message to senior officers in local government: 'Councils need to dig deep and get the funding in place for the right people, doing the right job.'
As anyone in the sector will know, neglecting or allowing street lighting to fall too low on the list of priorities can have devastating consequences. While Mr Grigg is sympathetic to the financial constraints facing local government, he highlights the legal implications of failing to train lighting engineering staff properly.
He said: 'I am aware that some authorities do not employ competent lighting engineers as due to budget cuts and restraints they have removed the lighting engineer and amalgamated the post into other departments.
'Local authorities have a legal and moral responsibility to train their staff properly.
'Our concern is that if something happens and an authority is required to attend a court case - such as a driver knocking down a lamp post that kills someone - they will be required to prove competence and compliance of British standards.'
The new president of the ILP would be to make chief executives and directors of local authorities aware that being a member of the ILP was essential to ensuring staff can demonstrate continuing professionalism and competence.
'Our programme of courses, seminars and events play a key role in helping lighting professionals maintain and update their existing skills, acquire new skills and progress their career,' he said.
'All members are required to provide 30 hours of CPD activities per year for continuation of their Grade.
'People don't recognise the importance of this until something goes wrong.' But with councils beginning to embrace the smart city agenda - something we have explored in the last few issues of LGN - will lighting have more of a role to play in transforming and connecting up cities going forward?
Mr Grigg said that while smart cities and the internet of things are still in their infancy, the lighting column has an essential role to play in this agenda.
He said: 'The lighting column is a useful adaptable post which can host or be designed to hold various technologies. This can be anything from monitoring levels of traffic and air pollution, to hosting WiFi and phone networks. However, the skill is to incorporate all those complex systems without interference from multiple systems.
'That's the most significant task at the moment as a lot of local authorities do not have this skill level. Each manufacturer may be a specialist in their own market but when you bring them together, the key will be getting it all to work.'
Obviously no discussion about the future of street lighting would be complete without the topic of switching off lights rearing its head. While Mr Grigg warns that it's becoming increasingly difficult for councils to balance budget cuts with delivering the right levels of lighting, he strongly believes a full whole life costing should be taken into consideration when making such decisions.
He also raised concerns that the specification process by many local authorities is 'flawed' so is not always achieving best value for money. He explained: 'There's a definite need for some training on lighting specification for lighting engineers. There are numerous authorities where their lighting specifications are flawed.
'We're finding it's common practice for councils to request 20-year guarantees, even though everyone is aware that some of the equipment in a road lantern specified.
'Although manufacturers will give councils the 20 year guarantee, it means they are paying extra for risk management. There is a real need for people to spend time to examine specifications and be realistic in their expectations. There is a guidance note for switching off lights on the ILP website should people require more information.'
Of course the new elephant in the room - not just for lighting but for every service provided by local councils - is what impact Brexit will have in the upcoming months and years.
Mr Grigg said: 'Our concerns at the ILP are what happens to the European standards we have in the industry - and we just don't know yet. However, what we normally see in standards are that Europe tends to follow the UK so we could see us setting the standards and Europe following.'
However, he concluded that whatever happens, 'Brexit will not break lighting'.