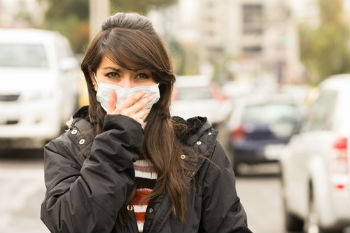 The Government should invest more in sustainable transport, doctors say as research reveals over 40 UK cities are in breach of recommended World Health Organization (WHO) guidelines for air quality.
New research on UK pollution published today by the Royal College of Physicians (RCP) and Lancet Countdown has revealed the air in 44 cities in the UK contains more pollutants than is considered safe by the WHO.
The report's authors called on Whitehall to do more to tackle air pollution.
They cited a 2016 RCP study that found ambient air pollution causes approximately 40,000 premature deaths, over 6 million sick days and an estimated total social cost of £22.6bn per year.
One measure the Government could take to improve air quality is to invest more in 'active travel', such as cycling and walking, and other sustainable modes of transport like electric vehicles and public transport, today's report says.
Whitehall has pledged to invest £10 per capita into active travel. However, the report found as of 2017, average UK-wide public spending on walking and cycling is £287m per year (£4.30 per head). This is set to fall to only £147m by 2020.
The report's authors calculate that investment in sustainable forms of transport can produce health opportunities while providing an average social return on investment of approximately £5.50 per £1 spent.
'The UK is leading the way internationally on many areas of climate and health – with the recent T-charge a good example,' said the RCP's special adviser on air quality, Professor Stephen Holgate.
'Yet it continues to miss the glaring opportunities that can be implemented today with highly substantial benefit.
'As the RCP and Lancet Countdown research shows, climate change is here and a health issue today. More can and should be done.
'The benefits for an overstretched health service alone are justification, but it is clear that the benefits of action will be felt much more widely, both economically and for those most affected by air pollution.'
Last week, the mayor of London introduced a £10 T-Charge for drivers of the most polluting cars in the capital.