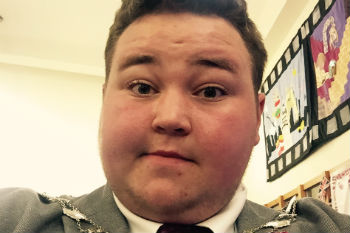 A Yorkshire town council has appointed what is believed to be the youngest mayor in England.
Goole Town Council confirmed last night that Cllr Terence Smith - 19 - will be mayor for 2016/17.
Cllr Smith has served as deputy mayor for 12 months and so, the council feels, he is experienced enough to take on the new role.
A council statement said: 'The council wishes Terence well in his year of office and are sure that he will be an excellent representative for the town and in particular will have the ability to engage with younger people in the community.'
Cllr Smith said: 'I was very proud and honoured to be appointed as mayor of Goole. This is a fantastic opportunity and I hope more young people get invited in politics'