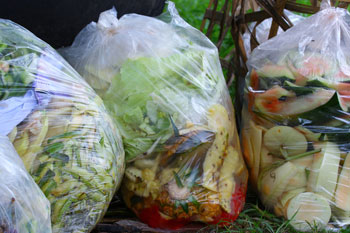 Local authorities are uniting with manufacturers and retailers in order to help millions of people reduce household food waste.
According to new research from the food waste experts WRAP, £13bn of edible food - 7.3m tonnes - was thrown away from homes in 2015.
WRAP argued if this was prevented, it would have the environmental benefit of taking one in four cars off the road.
The food waste experts' research also revealed almost 60% of people believe they personally waste either no food or hardly any, even though people know food waste is an issue.
WRAP is working with retailers, manufacturers and local authorities through its food sustainability initiative Courtauld Commitment 2025.
Under this commitment, practical solutions around education and the creation of common industry guidelines for storage advice, are being piloted and evaluated.
WRAP's CEO Marcus Gover said: 'Citizens are wasting one million tonnes less food per year, which means over eight million tonnes less food waste than when we started tackling this issue in 2007.
'But it is incredibly challenging to reduce food waste, and the stalling of progress shows just how difficult it is.
'That's why I'm calling on all businesses, organisations, campaigners and NGOs who work in this area, to unite together in in the fight against food waste. By working together we can win this battle.'