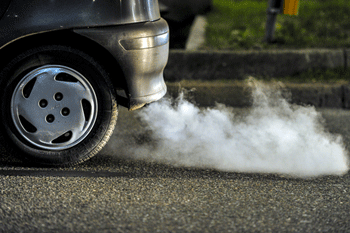 The Government's air quality plans 'unfairly' shifts the burden of tackling air pollution onto 'over-stretched' local authorities - and sets them up for failure.
The Chartered Institute of Environmental Health (CIEH) has criticised the Government's plans to reduce the levels of nitrogen dioxide in the air, accusing Whitehall of 'offloading' their responsibility onto councils.
The Government's plans, initially published in May after a court ruling found previous approaches were illegal, are designed to reduce the impact of diesel vehicles and accelerate the move to cleaner transport. They involve a series of options including Clean Air Zones (CAZ).
In their draft plans, Whitehall said councils would be expected 'to develop new and creative solutions to reduce emissions as quickly as possible, while avoiding undue impact on the motorist.'
In their submission to the Government's consultation on these plans, published today to coincide with National Clean Air Day, the CIEH warned the Conservatives had 'failed to recognise poor air quality is a national issue.'
The environmental health organisation, which represents over 7,000 members working in the public, private and non-profit sectors, said the Government was setting councils up to fail because of a lack of clarity or resources.
'The Government's proposals are woefully inadequate to tackle air pollution and place far too much responsibility on the shoulders of our over-stretched local authorities,' said Tony Lewis, head of policy at CIEH.
'We stand on the cliff-edge of a national public health emergency and these plans are devoid of substantive proposals, timescales for addressing the key challenges, clarity around targets or even availability of resources to support necessary actions.'
CIEH also warned the Government viewed CAZs as a 'panacea' to solving air pollution, and noted CAZ trials were taking place in only five English cities and have not been running long enough to demonstrate successful results.
The membership body suggested CAZs were similar to Air Quality Management Areas (AQMAs), which have been operating across the UK for many years.
Rather than providing a solution to air pollution, CIEH states that AQMAs have demonstrated little success and often lead to problem hotspots being relocated elsewhere.
'Air pollution does not recognise boundaries. All regions, towns and cities and even rural areas are affected by air pollution, leading to thousands of premature deaths every year and contributing to major illnesses,' Mr Lewis said.
'Air pollution, therefore, costs businesses and the health care services billions annually.
'This is not a political issue. We urgently need the Government to devise a robust plan, which should also include provisions for a new Clean Air Act, incorporating a national solution that is consistent, shares responsibility and ensures better funding – before it's too late.'