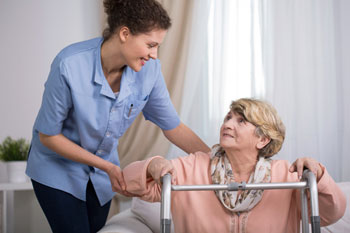 The Government must set out a costed 10-year plan to help shore up the struggling social care system, MPs say.
A new report from the Public Accounts Committee (PAC) has criticised Whitehall for lacking 'an effective overall strategy or plan to achieve its long-held aim' of integrating the health and social care sector.
The report says that there is a 'widespread consensus' that integration and joint working is the right way forward for the health and social care system.
It also notes that, over the last 20 years, there has been 12 white papers, green papers and consultations, and five independent reviews and consultations - all focused on health and social care integration.
However, the PAC concluded that there was 'no realistic prospect of progress.'
'The time for warm words and wishful thinking is over. If Government is serious about delivering the benefits of integrated health and social care, it must act to make it happen,' said PAC chair Meg Hillier MP.
'Without this action, the array of outputs over the past two decades – consultations, reviews, Government papers – will never be matched by improved outcomes for service users.'
Ms Hillier recommended that Whitehall adopt a costed 10-year plan for social care to go alongside its 10-year plan for the NHS.
'Social care has suffered long-term underfunding and it is unacceptable that councils, under considerable financial pressure and facing growing demand for care services, must wait until 2020 for clarity,' she said.
Ms Hillier also urged the Government to 'step up efforts' to break down barriers to integration across the country.
'Its departments and agencies need to work together more effectively to support the roll-out of best practice, as well as the leadership necessary to drive change at local level,' she said.
'There remains a wide gap in pay and career structure between people who work in the NHS and those in social care, whose workforce suffers from low pay and low esteem.
'As I have said previously, social care is skilled work that transforms people's lives. It could and should be a source of national pride.
'It is vital that the Government's workforce plan addresses these concerns as a positive step towards achieving its aim of integrating health and social care.'
Responding to the PAC report, Cllr Ian Hudspeth, chairman of the Local Government Association's (LGA) Community Wellbeing Board, said: 'Councils are determined to do all they can to ensure that exceptional, joined up, person-centred care and support is delivered in their communities, but with adult social care now consuming almost 40% of council budgets and facing a shortfall in funding of £3.5bn by 2025, the need for a long-term funding plan for adult social care has never been so urgent – the Government must either outline this in the upcoming budget, or the green paper on social care.'
Cllr Hudspeth stressed that it was important not to see integration of health and social care services 'as an end in itself' but as a means to 'achieving better services and health and wellbeing outcomes.'
He also said that national targets should not divert attention from locally-led solutions.
'If we are to deliver the most effective integration between health and social care possible, it's essential that funding for both health services and social care is secured on a long-term basis, and that local health and care leaders are given the space, resources and time to deliver appropriate solutions for the communities they serve,' he concluded.